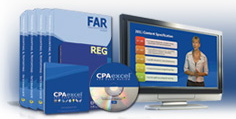 "With the current stubborn economic turn down, we felt students would appreciate a cash scholarship which they could use for any college expense. --Julie Snow, Scholarship Director
Sedona, Arizona (PRWEB) May 11, 2011
CPAexcel CPA Review, a recognized leader in the CPA Exam preparation profession, is pleased to announce the winners of its Spring 2011 Scholarship Program.
Through CPAexcel's continuous commitment to supporting accounting education, CPAexcel has awarded over $1 million in scholarships to motivated American and international university students over the past decade.
On May 2, 2011, CPAexcel awarded over $46,000 in cash and CPA Exam Review Course scholarships to 31 university accounting students to encourage them to pursue their accounting studies and to pass the Uniform Certified Public Accountant Examination (CPA Exam). The CPA Exam is one of the most difficult of the professional licensing exams with a passing rate of less than 50% nationwide.
CPAexcel wants to encourage accounting students to further their education. A CPA earns much more each year than an accountant who has the same experience and education. By supporting and encouraging young people to become CPAs, CPAexcel is helping one person at a time increase their earning power and improve their career potential.
CPAexcel is very pleased to award the Grand Prize to Sydney Stronko of Virginia Polytechnic Institute and State University (Virginia Tech). Ms. Stonko has been awarded $2,500 cash and a CPAexcel Video Gold Medal Course ($1690 value)
The five First Place Winners will each receive CPAexcel's Video Gold Medal Course ($1,690 value) which includes Professor Mentoring from CPAexcel's top team of CPA review course professors. The winners are:

Derek Schell, Southern Oregon University
Vanessa Santana, University of San Diego
Steve Morrill, Utah State University
Christopher McMahon, Winona State University
Ya Lin, York University (Canada)
CPAexcel's top six winners will have immediate access to CPAexcel's exceptional accounting faculty. These professors teach in some of the leading university accounting programs in the U.S. CPAexcel's professor mentors will respond to the winners' accounting and CPA Exam related questions within 24 hours.
As evidence of its excellence, CPAexcel's Video Gold Medal Course was recently selected by a Big 4 accounting firms as the online/off-line CPA Review Course choice for its staff in 2011 and 2012.
The 25 Second Place Winners will each receive CPAexcel's Online Video Self-Study Course ($1,335 value). Each winner will be able to raise their college grades and pass the CPA Exam with the help of the study tools provided in this course. The winners are:
Eric Erspamer, Augustana College
Alex Massey, Baylor University
Ryan Marquez, Boise State University
Allison Cohen, Boston University
Alexandra Myers, California State Polytechnic University, Pomona
Tulsi Adhikari, Colorado State University
Jason Gretz , Eastern Michigan University
Morgan Rowe, Georgia Southern University
Mengyu Su , Griffith University
Elizabeth Dick, Kansas State University
Kanitha Keo , La Salle University
Pam Tritt , Marshall University
Sarah Stout, New Mexico State University
Amanda Fehring , Ohio University
Randy Pullins, Old Dominion University
James Yun, Rutgers University
Dung Nguyen , SUNY Buffalo
Minnie Bell Haynes Healey, The University of Alabama
Kevin Grewal , University of British Columbia
Diana Ong, University of California, Los Angeles (UCLA)
Regis Gonzalez, University of Massachusetts – Dartmouth
Cody Spearman, University of Michigan-Dearborn
Ross Drapalski, University of North Texas
Qiaosheng Ma , University of Notre Dame
Jackie Derrick, University of Tampa
Congratulations to all of CPAexcel's Spring 2011 Scholarship Award recipients. The full list of winners is displayed at http://www.cpaexcel.com/scholarshipwinners. These scholarships pave the way for these bright students to excel in the accounting profession.
Because of the overwhelming response to the spring scholarship program, CPAexcel will offer another scholarship program during the fall 2011 semester. Students may enter to win at http://www.cpaexcel.com/scholarship/community.
About the CPAexcel Accounting Scholarship Program
The CPAexcel Accounting Student Scholarship Program is a nationally recognized program dedicated to supporting accounting education and developing leaders for the next generation of Certified Public Accountants (CPAs). CPAexcel's mission is two-fold: to provide financial assistance to students who are currently majoring in accounting and to encourage accounting students to pursue careers as Certified Public Accountants. CPAexcel accomplishes its goals through collaboration with academic, professional, and government organizations.
About CPAexcel:
CPAexcel produces CPA Exam review courses which present with great clarity the underlying financial concepts in each section of the CPA Exam. CPAexcel's CPA study courses focus on translating mountains of accounting information, government tax and regulation legalese into understandable modules.
Proven to prepare students to pass for the CPA Exam at nearly twice the national average, CPAexcel CPA Review offers a dynamic learning system which dramatically reinforces learning and retention. Concise, interactive lessons keep users focused while reviewing important concepts. Unique in the CPA Review industry, CPAexcel promises to be "partners until you pass," providing students with unlimited free updates and free course repeats until one year after they pass the CPA Exam.
CPAexcel is a branded product of Efficient Learning Systems, Inc.
# # #