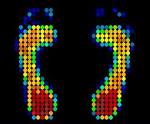 The power behind this patented technology is 3,744 gold plated barometric sensors that measure the pressure exerted by your foot every .25 cm2
Oakland, CA (Vocus/PRWEB) May 10, 2011
Oakland Medical Market announced today that they will offer a free in-store foot analysis system that saves people with foot issues time, money and pain. The iStep Foot Scanning System by Aetrex is a state-of-the-art foot scanning machine that measures foot size, arch type and pressure points. This information is used to identify causes of pain and make recommendations on shoe size and orthotics. Most stores charge for this service, but Oakland Medical Market is now offering it for free.
The iStep uses these precise measurements to recommend the correct shoe size and proper orthotic insoles that will help relieve common foot conditions such as arch pain, arthritis, corns and heel pain. But it's not just for people with foot problems; the iStep helps anyone who wants to be comfortable in their shoes.
"This new technology will help people with any of these conditions specific to foot issues," said Rae Seaton, owner of Oakland Medical Market. "More importantly, it can assist anyone regardless of age group or whether they have a podiatric concern they are aware of or not."
Oakland Medical Market is one of the few places in the Bay Area where people can get a free and immediate Aetrex analysis for their foot type. While others charge as much as $130.00 for the Aetrex analysis, Oakland Medical Market provides this advanced technology at no charge.
"The power behind this patented technology is 3,744 gold plated barometric sensors that measure the pressure exerted by your foot every .25 cm2," explains Aetrex. "Amazingly, this compact device also incorporates 1,326 infrared LEDs and Receptors that are aligned every half millimeter to ensure unmatched accuracy when measuring your foot."
Aetrex's iStep technology allows customers to get on their way to feeling great on their feet in less than 30 seconds, benefiting from an extraordinary fitting experience that will provide a custom-selected solution to help them lead a healthy and active lifestyle.
To see a video of how the iStep works, go to http://www.youtube.com/watch?v=2lnTZufaeTQ.
For more information about the free evaluation with the iStep Foot Scanning System or any of Oakland Medical Market's other products or services, call them at (510) 567-4253, visit them on the web at http://www.oakmedmart.com, or stop by their retail store at 433 Hegenberger Road, off Edgewater Drive.
About Oakland Medical Market
Oakland Medical Market has been the premiere Bay Area medical supplies store since 2007 specializing in skin care and adult incontinence products, walking aids and mobility scooters and much more. Their mission is to provide their customers with the cost-effective, quality tools and materials they need to improve their health and well-being. Oakland Medical Market is open Monday through Friday 9:30 a.m. to 6:00 p.m. Saturday 10:00 a.m. to 5:00 p.m. and closed on Sunday.
###