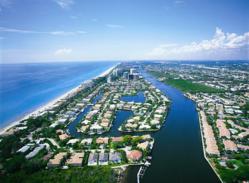 Best place on Earth: Boca Raton, Florida
Boca Raton, FL (PRWEB) May 11, 2011
Based on statistics compiled from the MLS - Multiple Listing Service, there have been 1473 residences sold this year compared to 1226 last year in the same period. Boca Raton Real Estate market is improving and we anticipate more buying interest in the coming months as the mortgage rates remain at an all time low and home prices are very enticing. Since the beginning of the year Boca Raton Luxury Real Estate saw an increase as well. There were 51 homes in the excess of one million dollars that sold and 47 luxury residences under contract.
With an inventory of over 3600 residences available in Boca Raton, we are presently enjoying a buyer's market. Based on the City's convenient location - midway between Palm Beach to our north and Fort Lauderdale to the south; as well as the proximity (52 miles) to Miami Beach. Boca Raton is known worldwide as a golf lover's paradise with dozens of private country clubs featuring a wide selection of luxury private residences and town homes. It is the home of the internationally regarded Boca Resort and Club, a 356 acre resort hotel, country club and beach front paradise that is part of the Waldorf Astoria Collection. Boca Raton is also a beach lover's and fisherman's paradise, with miles of ocean beaches and direct access to the ocean from the Intra-Coastal waterway. It's but a short boat ride to the Bahamas for a week-end of Island fun. For the jetsetters, the City of Boca Raton maintains its own airport for servicing private air travel.
Providence's most recent home sale participation was of a residence located in the Hidden Valley subdivision of Boca Raton, directly opposite Highland Beach which is situated on the west side of the Intra-coastal waterway.
Providence specializes in Boca Raton Real Estate and Boca Raton Luxury Real Estate, including waterfront and country club home properties located in Boca Raton, as well as the Delray Beach, Highland Beach and Manalapan areas of Palm Beach County.
For more detailed information on our comprehensive realty services, please call George Pojoga at 561 756-0196; you are invited to view our website at: http://www.movetoboca.com. George can also be reached via email at: george(at)movetoboca(dot)com.
All MLS statistics are presented for illustrative purposes only. While they are deemed reliable there is no assurance given, implied or intended as to their accuracy. They are presented herein subject to errors and omissions.
###