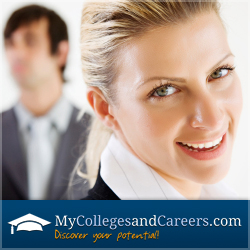 "It's a cool resource because you don't just have academics." - Eric Clark, founder, Quincy Tutoring
Provo, UT (PRWEB) May 10, 2011
Eric Clark, founder of Quincy Tutoring, has joined My Colleges and Careers' network of experts that serve as mentors to help students explore their options, discover a career they love and find the higher education solution that will help them meet their goals.
My Colleges and Careers' career experts network is a place where people from all types of industries come together to help college students and prospective students find a career they love, and learn what it takes to get there.
The network allows people who are interested in starting their career, changing careers or advancing the career they already have to connect with professionals with jobs in their area of interest.
Not only are these professionals available to mentor students, they also contribute to the My Colleges and Careers education blog and provide insight from a professional's and expert's point of view in a niche area.
Eric Clark, an expert who recently joined the network, is a college administrator and the founder of Quincy Tutoring. With a background in education and a master's degree under his belt, Clark brings an insightful perspective to My Colleges and Careers.
Clark founded Quincy Tutoring in 2007 as an alternative to expensive tutoring that is often out of reach for students. The organization connects students with tutors by providing a place where tutors can share their service, by joining a free network, and students can find a tutor that can help them succeed academically.
Quincy Tutoring is different than many other tutoring services because it allows tutors to set their own hourly rate and designate a location for their tutoring sessions. The organization provides SAT preparation classes and other resources for college students. The tutors also contribute to the blog to provide a resource for students and parents.
A strong believer in academics, Clark thinks higher education is important, whether that be through online college or specific field training. "I think college is extremely important," Clark said.
Clark provides mentoring to students through My Colleges and Careers in areas like financial aid and how to adjust to college life by being themselves. He also believes time management is the biggest thing students can learn to prepare for college. On the My Colleges and Careers site, he acts as a resource for students who want to learn time management techniques.
"It's a cool resource because you don't just have academics," Clark said of My Colleges and Careers and referred to the site as "a one-stop shop for multiple online education resources." The site provides information for students looking for details on which schools and programs can help them reach their goals as well as information on financial aid, how to study well and even what kinds of career opportunities different industries have to offer.
The advice Clark gives to college students is to not be afraid to seek out help. He points out there are many resources available to students and they should find the ones that can help them solve their problems and meet their goals.
http://www.mycollegesandcareers.com is committed to helping students find the best school for them so they can earn their college degree and embark on a rewarding career. A powerful resource for individuals who have full-time jobs and family responsibilities, My Colleges and Careers connects people with the programs that help them earn their degree online.
###