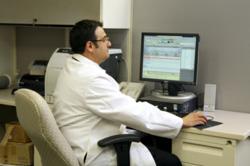 "I have patients who make jokes about their loud snoring. But the reality is that snoring is no laughing matter" -Fadi Layous, MD
(PRWEB) May 18, 2011
Everyone needs sleep but many have trouble sleeping well. Quality sleep is essential because it is the body's way of rejuvenating itself. At Medical Specialists Department of Sleep and Pulmonary Medicine, its Indiana doctors focus on providing comprehensive care to treat patients suffering from a variety of serious sleep disorders.
During sleep, muscles and soft tissues repair and revitalize themselves, the mind processes memories and things we have learned and sleep can aide in cardiovascular health, metabolism and weight management. Quality sleep is essential to our health. However, when sleep is disrupted by snoring, it can be annoying for the individual and for their partner. But more than that, disrupted sleep is often caused by a serious medical problem such as sleep apnea and COPD, which, if left untreated can contribute to strokes, heart attacks, high blood pressure, clinical depression, diabetes and other serious health concerns.
According to a study presented at the annual meeting of the Radiological Society of North America, people with obstructive sleep apnea (OSA) may have more non-calcified or "bad" plaque in their coronary arteries.
"After reviewing this study, it appears that individuals with OSA are prone to developing an aggressive form of atherosclerosis, putting them at risk for serious cardiovascular events," said Indiana board certified sleep medicine and pulmonary specialist Fadi Layous, M.D., "In this study, the patients with obstructive sleep apnea had a significantly higher prevalence of bad plaque in their coronary arteries," Dr. Layous said.
Obstructive sleep apnea is caused by obstruction of the upper airway during sleep and is characterized by periodic pauses in breathing, which last for 10 or more seconds. OSA is also commonly associated with snoring. "I have patients who make jokes about their loud snoring. But the reality is that snoring is no laughing matter," said Dr. Layous. "This new study illustrates the seriousness of pulmonary-related sleep disorders."
To address this problem, the Medical Specialists Department of Sleep Medicine conducts sleep studies or polysomnograms in itsstate-of-the-art Indiana sleep disorder clinic. The sleep lab is staffed by highly trained medical professionals who specialize in helping people with persistent sleep problems. Each sleep lab resembles a comfortable home-like bedroom. During the sleep study, specific physical activities are recorded, which enable Dr. Layous to make a diagnosis and determine an individualized treatment plan.
For many patients, equipment is needed to treat a sleep disorder. Medical Specialists (http://www.medspecindiana.com) can provide much of this equipment to its patients. The company works with each patient to select the equipment best suited to their individual needs. The result is enhanced user comfort, greater compliance and most importantly, improved sleep.
The team of experienced physicians, nurse practitioners and technologists at Medical Specialists is committed to providing state-of-the-art sleep disorder healthcare in Indiana. To schedule an appointment, please call (219) 922-5416.
# # #