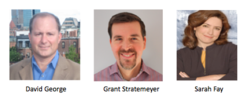 The company is ideally positioned to change the way the mobile advertising industry leverages rich media by making it accessible to more advertisers.
Cambridge, MA (PRWEB) May 10, 2011
Celtra Inc., the provider of the industry's first self-service platform for rich media advertising and analytics across mobile devices, today announced David George and Grant Stratemeyer, as new members of their executive management team together with the addition of Sarah Fay to the Board Of Directors. In addition, the company announced they have opened new offices in NYC and Los Angeles to help meet the growing demand for Celtra's rich media advertising capabilities.
David George, joins Celtra as Chief Operating Officer, to help scale the company operationally to meet the growing demand for their AdCreator platform and rich media capabilities for mobile devices. David brings over 20 years of successful experience building sales, marketing, business development, services and business operations globally for digital media based companies such as KickApps, Maven Networks, and eBay.
"The market for Celtra's rich media solutions for mobile devices is exploding and we are excited to have David join our team to continue build out our organization in order to meet the needs of our customers and business," said Miha Mikek, CEO of Celtra. "His proven experience building teams and working with top tier publishers, agencies, and advertising technology partners is a tremendous asset for us. "
"Celtra has an incredible technology platform, extremely talented team, and is addressing a market need for high performing rich media ad capabilities across mobile devices," said David George. "The company is ideally positioned to change the way the mobile advertising industry leverages rich media by making it accessible to more advertisers. I am very excited about the opportunity ahead."
The company also announced that Grant Stratemeyer was named Vice President of Business Development. Grant will be responsible for building out the company's strategic agency and technology partnerships. He brings years of relevant experience working with these partners while at Yahoo and Maven Networks. Most recently, Grant was responsible for Yahoo's agency channel and while at Maven Networks, he built and managed the agency and partner business driving a significant amount of revenue for the company.
Sarah Fay, former CEO of Aegis Media North America, was also announced to the Celtra Board of Directors joining Tim Wright, General Partner at GrandBanks Capital and Mark Hatfield, General Partner at Fairhaven Capital. Sarah brings years of media experience to the company along with tremendous knowledge about scaling organizations to meet the digital needs of major advertisers. Sarah was the CEO of Aegis Media, North America; CEO of Isobar, where she launched Isobar Mobile; and President of Carat Interactive. She is a respected industry thought leader and is known for leading the marketplace in the adoption new media models, including digital media, when it first emerged, Search Engine Marketing, Social Media, and Mobile Marketing. Sarah speaks regularly on the topic of media innovation, and has been recognized with numerous industry awards, such as ad:tech's "Lifetime Achievement Award", Adweek's "Media All Star", and Mediapost's "Top 100 Influencial People".
"We are extremely pleased to have Sarah joining Celtra's Board of Directors," said Miha Mikek, CEO of Celtra. "Her experience managing industry leading agencies and creating innovative solutions for global advertisers will help Celtra solidify their reputation as a leader in the mobile advertising industry. "
"I am thrilled to be joining the Celtra team, as it offers me direct insight to an extreme growth sector: mobile rich media. The new levels of creativity and targeting that the Celtra platform makes possible is very exciting to me, and I have been impressed with the way both publishers and advertisers are using it to make their content so much more compelling and effective," said Sarah Fay. "In addition, Miha has assembled a world class team that I am proud to be a part of."
In addition, Celtra has opened new office in New York City and Los Angeles to better support its growing customer base of leading agencies and publishers.
About Celtra
Celtra provides a Web based self-service platform for creation, ad trafficking, tracking and optimization of rich media mobile display advertising. The solution allows publishers, ad networks and media agencies to easily create, distribute, and measure rich media ads across all major OS platforms and numerous mobile devices. Celtra's AdCreator offers unmatched flexibility for creative campaign execution and best-in-class mobile ad formats. Celtra ads are certified to run on leading mobile ad networks, mediation platforms and premium publishers including: Jumptap, AdMarvel, AdMob, Amobee, Mobclix, Mojiva, Nexage, Smaato, Sympatico, Pandora and DoubleClick DART. Celtra ad formats run on over 600 publishers' mobile sites and applications. Additional information can be found at http://www.celtra.com or by following us on Twitter @CeltraMobile .
# # #