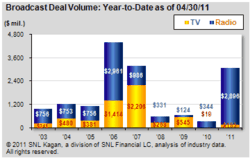 Monterey, CA (PRWEB) May 10, 2011
Deal volume in the TV station sector has staged a recovery thus far in 2011 vs. the very quiet years of 2009-2010, according to data from SNL Kagan, with TV deal volume of $185 million through April 30 of this year vs. the $19 million through 4/30/10. Add to that the March $2.4 billion Cumulus bid for Citadel Communications on the radio side, and Hubbard Broadcasting's $505 million January 2011 bid for 18 Bonneville Radio stations, and 2011 is off to a roaring start vs. 2010. In total, broadcast deal volume through April 30 is already $37 million higher than full-year 2010.
Deep data and analysis of the 2009-2010 TV station deal markets can be found in a newly-released SNL Kagan study, "TV Station Deals Data Book, 2010 Edition." This study reveals that for the years 2009 and 2010, the deal market was still under the spell of the financial meltdown that started in the middle of 2008. At first glance, the total TV deal volume of $1,157 million in 2009 seems high, but $880 million of it came from debt-for-equity swaps and restructuring deals. In 2010, we registered a further decline in deal volume to just $125 mil, coming from the sale of 23 stations. Cash flow multiples throughout the entire period were in the single digits for the first time since 1995, and with access to capital for nonperforming stations still being tight, $/TVHH values for stick stations declined another 25%, compared to 2008.
As shown below, total broadcast deal volume through April 2011 reached $3.1 billion vs. the $363 million of 2010. Year-to-date average deal multiples are 7.4x for TV stations and 8.2x for radio stations.
Highlights of TV station deal information available from SNL Kagan's TV Station Deals Data Book and ongoing research include:
•$154.09 million in Q1 2011 vs. $13.23 million in Q1 2010.
•15 Full-Power TV stations have sold through April 30 2011 vs. seven TV stations sold through April 2010.
•Average TV station multiples through Q1 2011 have ranged from 9.9x for markets 1-25 to 7.7x for markets 26-75.
•The average TV station cash flow multiple in 2010 was 9.8x vs. the 10.0x of 2009.
•Top deal reported in Q1, 2011 was Southeastern Media Acquisition, Inc.'s purchase of Community Newspaper Holdings, Inc. for $73.73 million on Jan 3rd.
•Thus far in 2011, companies including NBC, Nexstar, Liberty Media and Daystar Television Network have been involved in the TV station deal market.
Should more financing come into the sector, there are plenty of TV station properties waiting to come to market at what can be historically attractive pricing that would give an even stronger boost to the deal market. However, the TV station M&A discussion can be complicated by the upcoming potential spectrum auction in which some TV station spectrum may be sold in order to allocate 120 MHz of TV station spectrum to wireless carriers. While there are some buyers of stations which may be eyeing a potential flip, to wireless companies, questions remain about whether there is a valuation impact on those that remain that could be forced to move. These and other elements of the broadcast business will also be discussed at SNL Kagan's June 1 conference "The TV and Radio Finance Summit," for which more information is available here: http://www.snlcenter.com/kaganradiotv/2011/agenda.asp
Contact Christina Twomey, Press Relations, at 434-951-6914 or ctwomey(at)snl(dot)com for more details and specific media requests for data, analysis and interviews.
About SNL Kagan
SNL Kagan, a division of SNL Financial LC, is a comprehensive resource for financial intelligence in the media and communications sector, including the broadcasting, cable, entertainment, motion picture, telecom, wireless, satellite, publishing and new media industries. The SNL Kagan suite of products integrates breaking news, comprehensive data and expert analysis into an electronic database available online and updated around the clock. For more information, visit http://www.snlkagan.com.
Visit the SNL Press Room to learn more about resources available to members of the media.
SNL Financial
One SNL Plaza
Charlottesville, VA 22902
+1.434.977.1600
Other office locations:
Ahmedabad, India; Arlington, Va.; Boston, Mass.; Boulder, Colo.; Islamabad, Pakistan; Jersey City, N.J.; London; Monterey, Calif.; New York; Richmond, Va.
Visit SNL in the Media to learn more about resources available to members of the media.
SNL Financial on Linked In: http://linkedin.com/company/snl-financial
Follow Us on Twitter:
SNLEurope | SNLFinancial | SNLRealEstate | SNLEnergy | SNLKagan | SNLPeople
###