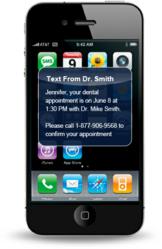 Patient Activator® is the best value on the market, offering a competitive feature set at half the price of competitors...
Los Angeles, CA (PRWEB) May 10, 2011
1-800-DENTIST® has announced the latest in a series of upgrades to its popular Patient Activator® patient communications and social media management service for dentists. The changes affect two of the service's signature features: the Daily Sign-in Sheet and the Patient eNewsletter.
As dentistry's leading digital communication service, Patient Activator® helps dentists increase customer loyalty and eliminate scheduling gaps by automatically sending patients personalized text and e-mail appointment reminders, recare notices, birthday greetings, eNewsletters and surveys. It features a "live call" appointment reminder option that automatically contacts patients with a personalized message recorded in the dentist or staff member's own voice. In addition to streamlining patient communications, Patient Activator® also enables dental practices to expand their Web and social media presence and manage their online reputation.
Patient Activator's Daily Sign-in Sheet is an essential office-operation tool that makes it easy to see at a glance up-to-date patient confirmation status. Delivered every day before the start of office hours, this printer-friendly report helps the front-office team identify and fill scheduling gaps. It also flags missing patient e-mail or cell phone contact information so that office staff can ask for it during the visit and improve reminder efficiency and patient recall.
A unique feature of Patient Activator® is the Patient eNewsletter that is delivered automatically every month on the date of the dentist's choosing. The upgraded eNewsletter offers dentists both a bold new design template and fresh, patient-friendly content that can be customized to complement their office's marketing strategy. As part of the upgrade, Patient Activator® is adding new articles to its library of production-generating content. There are currently over 400 articles to choose from with another 100 being added through the summer. Unlike its competitors, Patient Activator® doesn't charge customers to access its extensive library of articles.
"Patient Activator® is the best value on the market, offering a competitive feature set at half the price of competitors," said Michael Turner, President of 1-800-DENTIST®. "Our team is always thinking of new and better ways to help dentists and their staffs attract, retain and engage patients. Patient Activator's commitment to continuous improvement is producing a steady stream of revenue-generating features for our clients."
About Patient Activator®
Patient Activator®, part of Los Angeles-based 1-800-DENTIST®, is the leading text and e-mail reminder service for dentists. The company's award-winning reminder system automates patient communications, including e-mail and text appointment confirmations, recall reminders, eNewsletters, Invisalign® tray aligner reminders, and birthday greetings. The service also helps dental offices improve their Web presence and manage their online reputation. In 2011 Patient Activator® was named the Official Patient Reminder Service of the American Association of Dental Office Managers. It is the only major patient communication service available without a long-term contract. Patient Activator® is offered free to 1-800-DENTIST® members. For more information, visit patientactivator.com.
Contact: Sarah Swidron, 1-800-DENTIST®, 310-215-6524
###