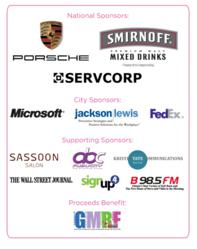 "Servcorp is committed to supporting women business owners, and we are proud to join forces with Little PINK Book to celebrate women in business as well as to educate entrepreneurs on next steps for their women-owned company."
Atlanta, GA (PRWEB) May 10, 2011
Servcorp, the world's leading provider of virtual offices and executive suites to entrepreneurs, mobile business professionals, small and mid-sized businesses and Fortune 500 companies, today announced that it will sponsor LittlePINKBook.com's event series, Spring Into Ownership, in Atlanta on June 13, Los Angeles on June 2 and New York City on June 17.
"Servcorp is committed to supporting women business owners, and we are proud to join forces with Little PINK Book to celebrate women in business as well as to educate entrepreneurs on next steps for their women-owned company," said Jennifer Goodwyn, VP/general manager USA of Servcorp.
Thousands of career women attend these events to network and hear success secrets from women owners on topics like growing their business in this unpredictable economic climate, maneuvering through male dominated constructs and finding courage to do what they love. This year's sponsors and supporters include Porsche, Servcorp, Smirnoff Premium Mixed Malt Drinks, FedEx, Jackson Lewis and Microsoft.
Majority of woman-owned firms now account for 29 percent of all enterprises. The number of these firms grew by 50 percent between 1997 and 2011, compared to a 25 percent increase in male owned firms. "Women are recognizing more and more that they have a strong place in the workforce," said Goodwyn.
The 2nd annual event series is for women business owners looking to hear insider tips and tricks from some of America's most successful and fascinating women owners. Women executives who attend the event series will learn owner success secrets, connect with like-minded women and boost leadership skills, profits and morale. Additionally, executives will participate in educational and inspiring break-out sessions on topics ranging from leadership to finance and social media.
Owners featured on the panels include:

Kathy Adams of Accord Services, who left Iran at age 12 to live with adoptive parents in the U.S. Today, the business she co-founded provides quality in-home care for the critically injured and has more than 1,000 employees.
Karen Trilevsky, a high school dropout, built FullBloom Baking Co. into a $50 million business with 180 employees and more than 600 clients.
Kathleen King, founder of Tate's Bake Shop, started cooking at age 11 and now churns out more than 50 million cookies a year from her New York facility.
Moderators, including Wall Street Journal deputy managing editor Rebecca Blumenstein, will ask the owners to share everything from success secrets to exit strategies – inspiring attendees to find greater success in their own endeavors.
PINK has raised more than $70,000 for nonprofits through events. Proceeds from this year's Spring into Ownership event will benefit the Global Medical Relief Fund.
Executives wanting more information or seeking to register should visit https://www.signup4.net/public/ap.aspx?EID=SPRI91E&OID=130
About Servcorp
Servcorp is a leading provider of Virtual Offices and premium Executive Suites that help organizations decrease costs, increase efficiency and promote a professional image. Through the integration of its advanced technology platform, prestigious executive suites and five-star service, Servcorp enables companies and professionals to focus on their own business while it takes care of office requirements and communication needs. Established more than 30 years ago, Servcorp serves thousands of organizations in every industry, including Fortune 500 companies to small and medium-sized businesses and solo practitioners all over the globe. For more information, visit http://www.servcorp.com/.
About PINK
PINK has been called "the No. 1 resource for America's working women." Little PINK Book's daily e-Note reaches millions of ambitious women globally.
###