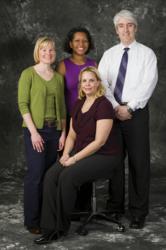 It's a great opportunity to connect with a patient in a more comfortable and less formal setting.— Dr. Stacy McCarty
Salem, OR (PRWEB) May 16, 2011
This month, five patient-doctor meet-and-greet events will give Mid-Valley women a chance to meet four gynecologists without having even one exam. The events are scheduled between the dates of Tuesday, May 17, and Wednesday, May 25, at community locations in Salem, Keizer and Dallas. Women interested in meeting the doctors—Stacy McCarty, Lindy McLandress, Greg Mallek and Lisa Rice can register online at MyDocMatch.org or call 503-814-4480.
Each woman that registers will have five minutes to talk with each physician. The gynecologists are hosting the events — thought to be the first their kind in the Northwest—to help women find a doctor that's right for them.
"I'm excited about the innovative approach Salem Health is taking toward meeting the health needs of our community," said Dr. McCarty. "It's a great opportunity to connect with a patient in a more comfortable and less formal setting."
Patients who find a match with one of the specialists can schedule a first visit at one of the doctors' two clinics—on the Salem Hospital campus, or at West Valley Surgical Specialty Clinic in Dallas. Dr. McCarty says the first visit is typically a one-hour appointment where she focuses on getting to know her new patient and establishing a relationship. During the visit, she also learns about her patient's medical history and completes a gynecological exam.
Willamette Health Partners Obstetrics and Gynecology opened in October of last year. Dr. McCarty and her three colleagues are part of the 12 primary-care and specialty physicians Salem Health has brought to the Mid-Valley through its new medical group since late 2009. The health system is working to address a community shortage of physicians by recruiting new doctors to Willamette Health Partners and other area physician groups.
Salem Health includes Salem Hospital, West Valley Hospital, Willamette Health Partners and other affiliated health care organizations offering quality care to people in and around Oregon's Willamette Valley.
###