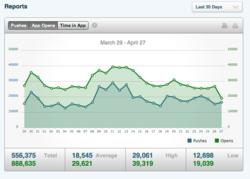 "As the Android ecosystem evolves, it is critical for third-parties like Urban Airship to help developers combat fragmentation with interoperable tools."
—Scott Kveton, CEO, Urban Airship
San Francisco, CA (PRWEB) May 10, 2011
Urban Airship announces new tools for Android developers today at the annual Google I/O developer conference. The company's Android client library will combine the breadth of Urban Airship's offerings — push notifications, in-app purchase, and reports data — into one drop-in library. The Android library will be publicly available at the end of May.
Urban Airship, which offers multiple push-notification products for indie developers through the enterprise, continues to see push notifications grow in popularity with developers. In the most recent 12-month period, the mobile services provider reports growth in push notifications of 756%. As of May 2010, the company had delivered 370 million notifications across three platforms; as of May 2011, that number has increased to 3.2 billion.
Push notifications increase user engagement with mobile apps.
Library Eases Fragmentation Woes
Fragmentation – an ongoing challenge for Android developers– is mitigated through the upcoming drop-in library tool set. As more devices running different versions of Android come to market, developers are challenged to build and maintain the significant infrastructure needed to support mobile features across multiple platforms and devices.
"The number of players in the Android space (handset manufacturers, carriers, app stores, Google) as well as the number of versions of Android running on multiple devices, has made it tough for Android developers to succeed, even with a killer app," says Scott Kveton, CEO of Urban Airship. "As the ecosystem evolves, it is critical for third-parties like Urban Airship to help developers navigate the systems with interoperable tools. With this client library, we are meeting that demand for easy-to-integrate tools to help developers monetize and keep users engaged."
Highlights on the Client Library for Android:

Urban Airship's Embedded Push, to be publicly available to any developer who signs up for a contract, operates entirely outside the Google stack, allowing mobile developers to offer richer features and to do more with notification delivery. Examples of such features in development include "quiet time" customization—allowing end users to define times not to be interrupted—an inbox of past notifications, guaranteed Quality of Service and return receipt. Additionally, Urban Airship's solution gives each app its own open connection that is synchronized to save battery life. The direct end-to-end connection between each app and end user devices allows near-instant message delivery.
C2DM Push Notification Support. Developers will be able to opt for C2DM push notifications through Urban Airship. This option, targeted for indie developers who send a limited number of messages, will be free. Developers who choose to use the C2DM push notification tool will need an account with Google.
In-App Purchase. Google recently introduced in-app billing on the Android platform. Urban Airship's in-app purchase sits on top of it and adds richer features while simplifying the integration process. In-App billing allows customers to purchase upgrades, new content, and complementary features directly from within the app without having to go return to the Android Market. In-app purchase is the quickest, most effective way to monetize mobile apps.
Urban Airship Reports provides quantitative data on app usage and user behavior with their apps—how many times users open an app, how push notifications trigger app usage and how much time users are spending within the app — provides valuable insight Android developers can leverage to enhance the value of their mobile messaging campaigns.
Urban Airship Push Composer offers a clean, simple, web-based dashboard so marketers can craft, configure and activate mobile messaging campaigns in real-time. Users can compose and input messages without needing to make API calls, thus putting the power of mobile directly into the hands of marketers.
Simplified initial install
Standardization across industry for libraries and updates
In-app purchase, embedded push and C2DM support contained within one library
Sample projects for the entire product line
Key Urban Airship Facts:

Urban Airship has delivered more than 3.2 billion push notifications across the iOS, Android and BlackBerry mobile platforms. Year over year, this is growth of more than 765%.
Urban Airship delivers more than 15 million push notifications each day.
Urban Airship has authenticated and delivered more than 3 million purchases via in-app purchase on both iOS and Android.
Customers make an average of 8 thousand in-app purchase transactions per day.
Urban Airship connects to 150 million mobile devices.
About Urban Airship
Urban Airship powers the world's most successful mobile apps. The company's mobile services platform solves four main challenges companies face with mobile apps—engaging with people, monetizing apps, scaling across platforms and understanding user behavior. Providing breakthrough technology, Urban Airship makes mobile apps far more engaging, effective, efficient, scalable and profitable. Tapulous, ESPN and Shopkick are just a few of the thousands of top brands that utilize Urban Airship's innovative platform to reach and engage target audiences and increase app revenue streams on the Android platform. The privately held company is based in Portland, Oregon.
# # #