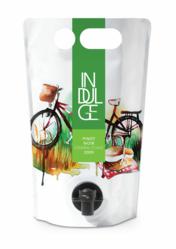 Santa Barbara, CA (PRWEB) May 11, 2011
Live Link at: http://www.indulgewines.com/files/Press%20Release_Feb2011.pdf
Pierre LaBarge IV established Indulge Wines for two reasons; his love of nature and the outdoors and his love of fine wine. For years a proponent of environmentally sound living, LaBarge was fascinated by the Astrapouch, a recyclable pouch developed in South Africa. Still, his previous experiences with the alternative packaging of wines were dubious, "I tasted a lot of boxed wine and wines in tetra packs, and while some of them were quaffable, none of the wines seemed to possess true varietal character. That really piqued my interest."
LaBarge and his wife, Allison, spend much of their time outdoors, hiking, biking and enjoying the California Coastline. "We love to travel with wine, but glass bottles can be cumbersome. And, when you consider the energy it takes to produce glass, and the cost it takes to ship glass containers; I just saw an opportunity for working with an alternative package that can be taken just about anywhere, and that's also environmentally responsible. The Astrapouch is 98% wine and only 2% package by weight. Once we secured the Astrapouch, our next goal was finding ultra-premium juice; we wanted to find a Pinot that truly tasted like Pinot. Then we expanded our search for other varietals."
Acting upon the negociant model, LaBarge forged relationships with wine producers throughout the Golden State, and the results are impressive, "I feel like our Indulge Pinot is pretty brilliant. It's an appellation Pinot Noir from the Central Coast." Alan Phillips, formerly of Foley Estates Winery, and acting consultant on various high-profile Central Coast winery projects, joined the Indulge team early on as winemaker consultant, "Pierre is obsessed with finding the highest quality juice for his customers. It's not just about selling wine for Pierre. He wants his customers to enjoy fine wine on the go, the way that he and Allison do. I think he's achieved that."
The first release of Indulge Wines will include two offerings: a 2009 Central Coast Pinot Noir and a 2009 North Coast Sauvignon Blanc. Both wines will be line-priced at $20.00 per pouch. One Astrapouch is equivalent to 2 (two) 750 ml bottles. "We're beginning our launch with two varietals. But, as we speak, I am sourcing Cabernet Sauvignon, Chardonnay and Syrah from winegrowers whose enological and viticultural efforts I respect."
Indulge Wines will also launch an interactive, consumer-driven website. The Indulge Wines motto is "Taste Life" and, as such, four categories will be offered for consumers with divergent tastes and interests. "Good Taste on the Go", "Accessorize with Good Taste", "Toast the Moment", and "Pair this with Life" are separate packaging elements, designed by UXUS Design of Amsterdam. UXUS is best known for their work with Levi Strauss, Heineken, Nokia, Coca-Cola, Oilily, and the Tate Modern.
"There's a paradigm shift occurring in the wine business right now. Consumers and their taste are increasingly relevant. Scores may still matter, but what matters more is what the consumer enjoys. They want good wine at good prices. It's that simple. We'd like to think that we at Indulge Wines can give that to them, while being environmentally conscious and practical. You can take the Astrapouch on a hike, to the beach, to a friend's house, to a bocce ball game, to a backyard BBQ. And, what satisfies me the most about this project is that the wines are delicious. That has always been my main focus."
To learn more about Indulge Wines please visit http://www.indulgewines.com.
# # #