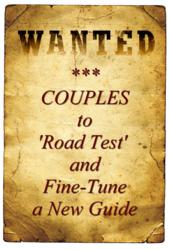 I have distilled into the guide a series of fundamental tenets and practical approaches that have stood the test of time.
London, UK (PRWEB) May 10, 2011
In response to ever-increasing requests from friends and clients he's helped over the years, psychologist Naran Rathod has written a ground-breaking new guide to successful relationships and launched http://www.simplepowerful.com. Perhaps uniquely, he is now seeking a selected number of couples to 'road test' the guide by trying its strategies and techniques on their own relationships. Their feedback will help fine-tune the draft guide before it goes to print, while selected questions and suggestions that touch on areas not covered may also be featured in the launch version. To thank them for taking part, the couples will receive a free electronic copy of the published guide.
As Rathod admits, there are already countless self-help books about relationships available, but he is aiming to provide something different, hence his desire to incorporate additional input from a diverse sample of 'real people' to ensure that the guide is as relevant, user-friendly and practical as possible.
He states: "The information is really easy to understand and the simple strategies it contains can make a real difference. This is truly a guide for anyone in a relationship, regardless of age, nationality, or sexual orientation - whether you have just started your journey, or have been together for many years - whether you are facing challenges in your relationship or are blissfully happy." He adds: "I have distilled into the guide a series of fundamental tenets and practical approaches that have stood the test of time. I am convinced that when people understand these simple but powerful principles about relationships, the resulting techniques they use are invariably more effective."
'Physician heal thyself' can certainly be applied to Rathod. The knowledge and wisdom that he presents has been developed not only through his experience of helping others, but also through navigating significant challenges in his own personal life. In spite of the challenges, he has always passionately believed it is possible for anyone to create a long lasting and meaningful relationship. He has now been in a fulfilling and happy relationship for almost 17 years and while he and his partner have faced and surmounted significant challenges, their relationship has emerged stronger and closer, thanks to the very same techniques he applies professionally to helping others.
Rathod observes: "The relationship with our partner is arguably the most important in our lives, yet so many people struggle to find contentment and happiness through it. But it really doesn't have to be that way. Growing a long term, loving relationship is perfectly possible if you know how, so why not give it a try? There's nothing to lose, and so much to be gained."
Couples interested in taking part in this unique opportunity - available until 21st June 2011 - should follow the registration instructions on http://www.simplepowerful.com where more information and updates can be found. So confident of the guide's success is Rathod that it will be available to the couples chosen for the evaluation at the special pre-launch price of £5 (US$8/€6), in return for feedback after 30 days. And with a 30-day money-back guarantee of satisfaction, he's expecting a high level of interest.
For more information visit http://www.simplepowerful.com
###