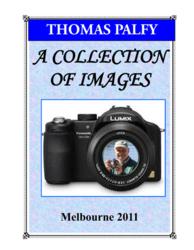 "Captured with the Camera" was the title of my first photo album (2007). I attempted to present my best images in that book. Since then I have taken many more photos and decided now that it was time to publish another collection of images.
Melbourne, Australia (PRWEB) May 12, 2011
The latest book of Thomas Palfy, writer-photographer, Postcards from South Gippsland has been published through http://www.CreateSpace.com. It is a richly illustrated record of the author's recent tour of South Gippsland, in South Eastern Victoria. It features pictures of waterfalls, rainforests and beaches of the local National Parks and Nature Reserves as well as of other tourist attractions. This book is the third in the Postcards from… series. A Collection of Images published through http://www.lulu.com contains a selection of the author's best images. This is his second such album, the first was published in 2007 under the title Captured with the Camera. A Collection of Images is available both as standard and premium editions.
For more information or to request a free review copy, members of the press can contact the author at tpalfy7(at)gmail(dot)com or visit http://www.australiantravelstories.com. Thomas Palfy's books are available for sale from http://www.lulu.com, http://www.CreateSpace.com, http://www.amazon.com and through other wholesale and retail channels worldwide.
About the Author
Over the years Thomas Palfy along with his wife and travelling companion, Susan has visited numerous attractions of the fifth continent. Out of these rich experiences the books Australian Adventures and Images of Australia were created. These two works describe and illustrate visits to the main cities as well as many national parks with their weird and wonderful landscapes, unusual plants, fascinating animals and encounters with people. The West of the West is a travelogue of a trip to the West Coast and the Kimberley region of Western Australia with many colour illustrations. The Hub of Australia and Beyond is a similar account of tours in South Australia and the Northern Territory. Australia Illustrated: The Eastern States completes the trilogy of descriptions and illustrations of tours to the states and territories of the fifth continent. Definitely Digital! is a concise guide to digital photography. Across Australia from East to West is Palfy's most comprehensive work presenting many of Australia's incomparable tourist attractions in words and pictures. The author was diagnosed with lung cancer early in 2010. After an operation, several stays in hospital and months of chemotherapy treatment Palfy was back in the Grampians late in October taking photos of wildflowers, mountain ranges and other tourist attractions of the National Park. This was soon after completing his treatment sessions, but not before relating his experiences in the hospital in the book The funny side of lung cancer. The work with its provocative title aims at inspiring people to take an optimistic attitude no matter what situation they have to face in life.
Media Contact:
Thomas Palfy
tpalfy7(at)gmail(dot)com
Author's Website: http://www.australiantravelstories.com
Link to Publication: http://www.lulu.com/tpalfy and http://www.CreateSpace.com
Release Source: Thomas Palfy
###