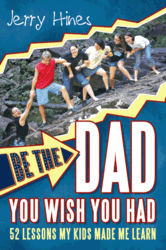 Bedford, KY (PRWEB) May 11, 2011
Many men mistakenly believe that all that is required to be a father is to be present and occasionally give 'fatherly advice'. However, there is far more to being a good dad than proximity and genetics. Now, the new book Be the Dad You Wish You Had: 52 Lessons My Kids Made Me Learn (published by WestBow Press) by Jerry Hines offers advice and guidance for future and current dads, alike.
Many men are not letting their children truly get to know the man they call "Dad". Not only are these children missing out on a crucial facet of their social, moral and emotional development, the fathers are missing out on one of the most rewarding relationships a man can have. Be the Dad You Wish You Had was written to help rectify that relationship gap.
With a blend of over fifty short stories and observations about how dads, and men in general, can relate to children, Be the Dad You Wish You Had distinguishes itself as more than just a 'how to' parenting book. Be the Dad You Wish You Had is written with the premise that fathers not only influence the emotional and physical development of their children, but that this influence also carries over into how they perceive and interact with God. With this in mind, Be the Dad You Wish You Had is also a compass for creating a healthy relationship with the Heavenly Father.
Among the topics addressed in Be the Dad You Wish You Had are dealing with sibling rivalry, how to handle bullies, encouraging boldness and creativity, making the most of time spent together and stimulating responsible behavior. With the help of Be the Dad You Wish You Had all dads can look at their children with a sense of love and pride without the nagging presence of regret and wasted time.
About the Author
Jerry Hines was born in 1958 in Louisville, Kentucky. When he reached his teens, his family moved to a farm in Trimble County, Kentucky. After high school Jerry attended the University of Kentucky where he earned a Bachelor of Science degree in Biology. Jerry has worked at several different jobs over the span of his career. He started out as the owner of a pet store and eventually found a place helping keep people safe working in the chemical and steel industries. Jerry and his wife Susan have been happily married for nearly 27 years, and are the parents of three delightful daughters and a tall, handsome son.
WestBow Press is a strategic self-publishing alliance of Thomas Nelson, the world's premier Christian publisher, and Author Solutions, Inc. (ASI)—the world leader in the fastest-growing segment of publishing. For more information, visit http://www.westbowpress.com.
###