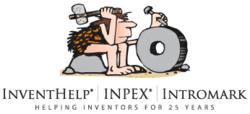 Pittsburgh, PA (PRWEB) May 11, 2011
InventHelp®, America's largest inventor service company, announces that one of its clients, an inventor from North Carolina, has designed a device that could provide a convenient way to enhance the appearance of a patio table. This invention is patented.
"H&P Designs" would feature a doughnut-shaped design that would accept a patio umbrella for use in the center of the table. The unit would service as a stylish centerpiece for the patio table, adding a decorative element to the patio area. H&P Designs would feature a design that would not interfere with the use of the table.
H&P Designs would consist of a doughnut-shaped flower pot unit with a cylindrical extension in the middle. The pot could be producible from plastic, ceramic, glass, tin, brass, copper or nickel. The unit could be producible in circular, oval square and rectangular shapes, as well as in designs such as frogs, rabbits, squirrels and cats. Drainage holes would be positioned in the base. A doughnut-shaped catch tray would rest under the pot. Variations would include pots with a handle or two handles, pots with decorative lips and pots composed of two separate halves that could be positioned around a tress, mailbox post or lamp post. Additional variations would include baskets, candle holders, water features and other decorative outdoor accessories. The inventor suggests that the pot could also be used to hold marbles or rocks instead of flowers, or condiments, silverware and place settings for restaurant use.
InventHelp® is attempting to submit the invention to companies for review. If substantial interest is expressed, the company will attempt to negotiate for a sale or royalties for the inventor. For more information, telephone Dept. 06-CHR-1775 at (800) 851-6030.
# # #