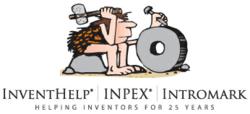 Pittsburgh, PA (PRWEB) May 13, 2011
InventHelp®, America's largest inventor service company, announces that one of its clients, an inventor from Pennsylvania, has designed a trash receptacle specifically for use in a laundry room. This invention is patented.
"The Clean Catch" unit would feature two compartments that could enable the user to dispose of used dryer sheets and lint, while also dispensing fresh dryer sheets. This convenient and easy to use design could prevent a user from having to walk into another room to dispose of laundry trash and prevent lint from getting on the floor and furniture. The compact unit would utilize minimal space in an already cramped laundry area.
The Clean Catch trash receptacle would consist of plastic or metal and would be designed for use with laundry waste. The unit would measure 16 inches tall, 6-1/2 inches wide and 4 inches deep. The unit would feature two separate compartments: the top compartment would feature a flip-style lid with an oval opening for the insertion of used dryer sheets and collected lint. This compartment would also feature a pull-out liner for easy disposal of dryer sheets and lint once the compartment is full. The compartment would feature a semi-circle on the front that could include the words "Catch All." The bottom compartment would house fresh dryer sheets. The front of the bottom compartment would include a vertically oriented oval opening and flip downward so that a box of cling-free dryer sheets can be placed inside the unit. The sheets could be dispensed out of the opening once the compartment is shut. The user would utilize the receptacle to dispose of used dryer sheets and lint, and to retrieve new dryer sheets from the bottom compartment. A user would empty the receptacle once it is full. The Clean Catch would be producible in different sizes and colors.
InventHelp® is attempting to submit the invention to companies for review. If substantial interest is expressed, the company will attempt to negotiate for a sale or royalties for the inventor. For more information, telephone Dept. 09-HAK-429 at (800) 851-6030.
# # #