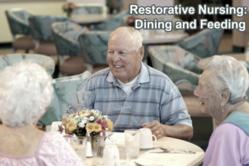 "There is overwhelming evidence that effective restorative nursing programs bring benefits to nurses, patients, and long-term care facilities." – Genene Blake, Director of Content Development for Care2Learn
Tampa, FL (PRWEB) May 11, 2011
Tampa — Care2Learn, Inc., the leader in online nursing CEUs and professional skills training for the healthcare industry, announced this month the release of a new 6-part course series focusing on restorative nursing care. Restorative nursing programs aim to prevent functional decline in long-term care residents by applying a whole-person approach to patient care which allows individuals to be as independent as possible.
The Care2Learn Restorative Nursing Care Series includes six online CE courses and six inservices focusing on the key aspects of restorative nursing care. It includes the latest information on restorative nursing principles, along with strategies for practical application in a variety of care areas such as: Activities of Daily Living, Mobility, Range of Motion, Bowel and Bladder, and Dining and Feeding.
"Care2Learn is very excited to release this new series on restorative nursing care," says Genene Blake, Director of Content Development for Care2Learn. "There is overwhelming evidence that effective restorative nursing programs bring benefits to nurses, patients, and long-term care facilities. We developed this new series because restorative nursing education represents a significant shift in focus. This is holistic, "person-centered" care at its very best, because it focuses on what patients can do instead of what they can't do. Not only that, but a well-managed restorative nursing program is profitable for the facility. In other words, good care creates resources for even more good care; it's a positive cycle."
Recent revisions to resident assessment policy and procedure—including many of the changes introduced in MDS 3.0—directly or indirectly relate to restorative nursing, and there is growing evidence that successful restorative nursing care programs improve resident quality of life as well as generate Medicare reimbursement for long-term care facilities.
The Restorative Nursing Series is available now from Care2Learn. For additional information about the series, as well as the complete Care2Learn online CE and compliance training library, visit http://www.Care2Learn.com.
About Care2Learn
Founded in 2000, Care2Learn provides online education solutions to the post-acute healthcare industry, including nursing homes, assisted living facilities, rehabilitation centers, and home health and hospice facilities. The Care2Learn course library includes more than 800 fully accredited course hours delivered to more than 320,000 healthcare professionals in all 50 states. Acquired by RedVector, the premier online CE provider for the design, engineering, and construction industry, Care2Learn continues to grow by offering customized online eLearning universities to companies wishing to offer training and education solutions to their entire staff in a cost-effective, easy-to-use, and readily accessible manner. For further information, call 1-866-703-9418 or visit http://www.Care2Learn.com.
###