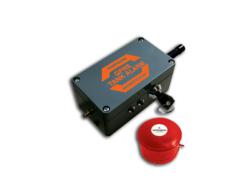 The first real solution to heating oil and diesel theft.
Cardiff, Wales (PRWEB UK) 13 May 2011
Compound Security Systems is pleased to introduce the worlds first GPRS enabled security system for oil and diesel storage tanks. Track tank security wirelessly from a central monitoring station and learn about security issues instantly. A breakthrough for tank security, CSS brings together industry leading protection and monitoring solutions to create one state of the art product.
UK's police officers requested this technology, and CSS answered the call. CSS has combined the excellent oil level detection system designed by Watchman with state of the art GPRS communication systems to create the first fully ARC (Alarm Receiving Centre) monitored fuel-oil storage tank security system. This is an elegant, efficient solution for pressing problems confronting storage tank managers.
CSS wireless alarm is suitable for both metal and plastic tanks under 3 m in height. It needs no more than a quick and easy DIY installation. The security log can be accessed anywhere through a password protected online log and is accurate to within 1.5 cm oil depth. An optional iButton allows Fuel suppliers to disarm the system while filling the tank and rearm it when finished. The tank can be recalibrated when the tank is filled and the log is automatically updated.
With theft of oil and diesel from domestic, commercial and industrial storage tanks increasing rapidly due to the poor economy, ACPO (Association of Chief Police Officers) have given the GPRS Tank Alarm their full accreditation and support.
With a price of around £500 + VAT and £180 + VAT per year data and monitoring charges, the GPRS Tank Alarm has the potential to prevent tens of thousands of fuel-oil thefts per year. It is cheaper than replacing a stolen tank full of fuel.
The GPRS Tank Alarm will be officially launched at the security expo IFSEC at the NEC on 16th May 2011.
About Compound Security Systems
CSS is a leading supplier of wireless signalling, security, monitoring and anti loitering deceives all over Europe. They are makers of the popular Mosquito anti-loitering device, a safe and proven effective way to disperse loiterers from public places and reduce vandalism. CSS is dedicated to making and marketing security products that solve problems simply and effectively. The sales staff boasts a detailed knowledge of their products and offers superior after sales service.
Contact details
Compound Security Systems Ltd.
10, Criccieth Grove, Merthyr Tydfil, Wales, CF48 1JY
http://www.compoundsecurity.co.uk
simon(at)compoundsecurity(dot)co(dot)uk
Tel: (0) 1685 350418
###