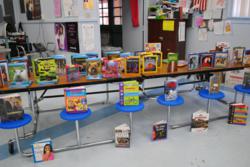 These books mean a lot to our community. Your thoughtfulness will be remembered every time we open a book or visit the library!
-Johnita Smith, 1st Grade Teacher
Topeka, KS (PRWEB) May 16, 2011
Even after 5 years, a school library devastated by Hurricane Katrina has not been forgotten. Homedale Elementary School in Harvey, Louisiana recently accepted a donation of over $5,000 worth of Scholastic hardbound books from Studentreasures Publishing.
First grade teacher, Ms Johnita Smith graciously accepted the donation adding, "These books mean a lot to our community. Your thoughtfulness will be remembered every time we open a book or visit the library!"
Homedale Elementary School has been slowly rebuilding their library with a small selection of donated books since its roof caved in during Hurricane Katrina, but not nearly enough to accommodate their student population. After contacting Studentreasures, Smith expressed their need for more books.
A fundraiser that began by selling homemade burritos quickly spiraled into book and monetary donations. Teacher, Laura Candler posted a request on her Facebook page and soon after, other schools began donating books. Livingston Marketing, Scholastic Inc., and Joseph E. Gigous, CEO of Studentreasures all generously donated books and money.
With the funds collected, Studentreasures Publishing purchased numerous hardbound books from Scholastic, Inc. at a tremendous discount and donated them to the school.
The library at Harvey Elementary School is once again filled with books for students to enjoy.
The heartwarming experience is summed up best by Greeve, "It's for the students! Studentreasures is proud to be a part of such a worthy cause." For more information about publishing with Studentreasures, call 800-867-2292 or visit online at studentreasures.com.
To view pictures from the event, visit Studentreasures on Facebook
Studentreasures Publishing, a division of Nationwide Learning, LLC, is the leading student-created book publisher donating more than 4 million hardbound books and publishing more than 6 million student books for schools throughout the nation during the past 15 years. The company's mission is to motivate students to learn through publishing. The program builds self-confidence, and improves reading, writing and artistic skills. Each hard-bound book becomes a treasured keepsake.
Scholastic Corporation is the world's largest publisher and distributor of children's books and a leader in educational technology. Scholastic creates quality educational and entertaining materials and products for use in school and at home, including children's books, magazines, technology-based products, teacher materials, television programming, film, videos and toys. The Company distributes its products and services through a variety of channels, including proprietary school-based book clubs, school-based book fairs, and school-based and direct-to-home continuity programs; retail stores, schools, libraries and television networks; and the Company's Internet site, http://www.scholastic.com.
###