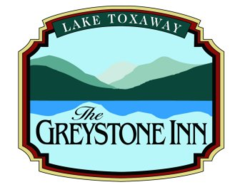 Lake Toxaway, NC (PRWEB) May 10, 2011
Summer camp isn't just for kids. The historic Greystone Inn invites families taking kids to and from one of North Carolina's many summer camps to enjoy some personal time out and experience the Blue Ridge Mountain retreat's version of lakeside camping with its new "Camp Toxaway" summer package with value-added rates starting from $199 per night.
On the shores of Lake Toxaway, North Carolina's largest private lake, The Greystone Inn provides its "campers" with no sleeping bags, only deluxe accommodations, gourmet cuisine, lake activities, an array of nature hikes - including the private Toxaway River Trail, and plenty of rejuvenating downtime for body and mind.
Camp Toxaway amenities include The Greystone Inn's signature High Country Breakfast (Belgian waffles with fresh fruit and nuts, customized omelets, smoked salmon, and more), afternoon tea with sweet and savory temptations, evening hors d'oeuvres, daily champagne cruise on Lake Toxaway aboard the Miss Lucy, access to the private Lake Toxaway Country Club golf course (green fees are additional), Tom Fazio Golf Learning Center, tennis, world-class croquet lawns, fitness center, spa services, canoes and kayaks, pool and lake swimming, and scenic hiking. Campers may enhance this package by adding a six-course gourmet dinner in the Inn's Lakeside Dining Room.
The Camp Toxaway package rates start at $199 per night mid-week, based on double occupancy, two-night minimum stay, and is valid from June through August. Additional charges apply for more than two occupants per room, including children. Some activities, including golf and spa services, are in addition to the package price. Call 800-824-5766 or 828-966-4700 for more information or visit http://www.greystoneinn.com.
About The Greystone Inn:
Situated in the Blue Ridge Mountains, The Greystone Inn is a charming country retreat that overlooks Lake Toxaway, North Carolina's largest private lake, and is bordered by both the Pisgah National Forest and the Nantahala National Forest. The Inn is located inside Lake Toxaway Estates, one of the area's premier private communities. Originally the 1915 mansion of Lucy Armstrong Moltz, the Inn was restored and refurbished in 1985. The entire property includes the 16-room inn, adjacent 12-room Hillmont Building, two Lakeside Suites, and one Presidential Suite ideal for weddings, receptions, and meetings. The Greystone Inn offers luxury accommodations, gourmet dining, afternoon tea, golf at Lake Toxaway Country Club, tennis, croquet, fitness center, canoes and kayaks, pool and lake swimming, scenic hiking, and rejuvenating spa services. The Kris Spence-designed 18-hole, par-71, private golf course is one of western North Carolina's premier courses. The scenic layout winds through spectacular mountain terrain with inviting fairways, dramatic elevation changes, and Augusta-style approaches that demand pinpoint accuracy. The Greystone Inn is located between Brevard and Highlands off US Highway 64, approximately 50 miles southwest of Asheville. The Inn is a one hour drive from Asheville Regional Airport, and one and a half hour drive from Greenville/Spartanburg Airport. For more information, guests can call (800) 824-5766 or visit the Inn's Web site at http://www.greystoneinn.com.
###