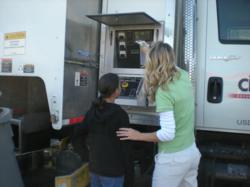 San Antonio, TX (PRWEB) May 12, 2011
Generations Federal Credit Union will host its bi-annual Shred Day from 10 a.m. to 1 p.m. on Saturday, May 21 at its Balcones Heights branch located at 4005 Fredericksburg Road. The event is free and open to the public.
Every year 15 million Americans are victims of identity theft, resulting in financial losses of nearly $50 billion dollars. To help combat these rising statistics, Cintas Document Management Company and Generations (formerly San Antonio City Employees Federal Credit Union) will provide a mobile shred unit to offer on-the-spot document destruction and paper recycling.
Credit card receipts after their monthly statements arrive, paycheck stubs after the annual W-2 arrives, personal medical records, physician statements, insurance forms, mail, telephone bills, cancelled checks, credit union statements, and mailing labels from magazines are just a few of the items that San Antonians are encouraged to destroy.
For additional information visit http://www.mygenfcu.org or call Generations at 210-229-1128.