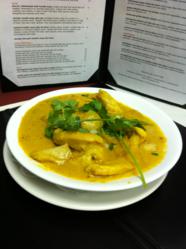 Simply fresh and delicious
(PRWEB) May 12, 2011
On April 18th, Saigon Spring, a new restaurant offering fine Vietnamese dining—a first for Halfmoon and neighboring Clifton Park—opened for business. The owner, Hong Nguyen, and her family, leased and completely renovated the 3,500 square foot space located in St. John's Plaza at 1683 Route 9, Halfmoon NY to assure that it would provide an enjoyable dining experience.
Cathy Tran, the establishment's Executive Chef and Nguyen's mother, has more than 20 years experience in preparing rich, traditional Vietnamese fare. Accordingly, the menu features pho (rice-noodle soups), summer rolls, curry dishes, crispy duck and other familiar dishes, while also offering many vegetarian options.
Nguyen and her family are no strangers to the restaurant business, having spent a number of years in the kitchen and on the floor at Van's Vietnamese restaurant in Albany—which is owned by her brother Hung. The family chose the Halfmoon location, in part because "we didn't want to be too close to Van's," said Nguyen, but more importantly because her research showed that Halfmoon's population is growing quickly—rising 17 percent in just the last 10 years—thus, seemed a good fit for the business.
While the lunch and dinner menus contain many Vietnamese standards, Chef Tran is committed to using only the highest quality and freshest ingredients available for these and other signature dishes. Once their liquor license is approved, staff will help diners pair the dishes with a selection of premium Belgium beers, Riesling wines and other offerings. And, typically, the food looks as attractive on the plate as it tastes. Moderately priced, appetizers and salads start at $5.50 with lunch entrees in the $8.00 to $13.00 range. Dinner entrees range from $10.00 to $19.00.
Staff include Hong, her mother, Cathy, and several other family members. They have worked together for years and look forward to serving residents of Halfmoon and surrounding communities. As Nguyen puts it, "Our goal is to educate people about traditional Vietnamese food and to provide them with a fine dining experience in a congenial setting."
The restaurant which features a 65-seat capacity dining room (with a private room that can accommodate up to 15 people for parties and other special occasions) will be open seven days a week for lunch and dinner.
Please visit us on the web at http://www.saigonspring.com
###