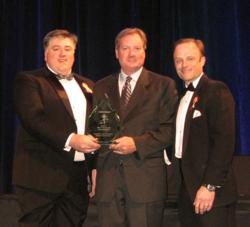 We are honored to receive the Mira Award for the hard work put forth by our team in 2010. We are excited to see how our product will continue to impact healthcare in 2011.
Indianapolis, IN (PRWEB) May 11, 2011
TechPoint, Indiana's economic development initiative focused on technology, recognized PolicyStat LLC as one of the state's high-tech success stories during its annual Mira Awards gala held at the JW Marriott in downtown Indianapolis. Now in its 12th year, the TechPoint Mira Awards highlight Indiana's technology companies, institutions and individuals who are leading the state's high-tech economy.
PolicyStat took home the award in the "Health and Life Science Gazelle" category for its explosive growth and innovative practices in healthcare document management. According to Mira Award judges, PolicyStat is a good example of how a high-tech firm should be built and sustained in Indiana. It is a company founded and managed by a group of people who took the skills developed at other successful high-tech companies in the state and brought them together to form PolicyStat (e.g. Software Artistry, Aprimo, Pan Testing, ExactTarget, Interactive Intelligence, ANGEL Learning and Autobase). Its capital was reinvested from liquidity transactions at many of the same companies. PolicyStat has taken advantage of one of the hottest technology spaces today – healthcare IT – attacking the opportunity with current technology (cloud computing, open source technology and delivered Software-as-a-Service).
"We are honored to receive the Mira Award for the hard work put forth by our team in 2010," said Steve Ehrlich, president of PolicyStat. "It was an explosive year for us, with 267% year over year growth in revenue. Momentum has continued so far in 2011, and as a company we are excited to see our product make a positive impact in healthcare."
This year, well over half of all companies participating in the Mira Awards are companies that did not even exist five years ago. According to TechPoint President and CEO Jim Jay, this is a real testament to the strength and resiliency of Indiana's tech sector – that so many startups could not just survive, but actually grow and thrive during the greatest global recession of our lifetimes.
"The startup environment and tech sector as a whole in Indiana is stronger than ever because our tech sector has developed a deep and interesting sense of innovation and entrepreneurship," said Wil Davis, past chairman of TechPoint, who delivered opening remarks at this year's Mira Awards. "We're not just 'doing pretty good for Indiana' anymore. We've kicked that 'aw-shucks' mentality to the curb and planted our leadership flag on the global stage."
About TechPoint
TechPoint is Indiana's statewide technology initiative focused on growing Indiana's tech sector by promoting the successes of technology companies and professionals; supporting the formation, expansion and attraction of technology companies; and advocating appropriate public policy. For more information, please visit http://www.techpoint.org.
About PolicyStat LLC
PolicyStat LLC is an Indianapolis-based company that delivers a premier "Software-as-a-Service" solution for healthcare document management. The software provides fast, easy searching of policies, procedures and other vital information. PolicyStat's explosive growth in 2010 and advanced product enhancements have allowed it to expand its business to small outpatient clinics as well as large hospital systems and clinical labs. The company continues to expand, fulfilling its mission of enhancing healthcare through improved efficiency and better patient outcomes.
###