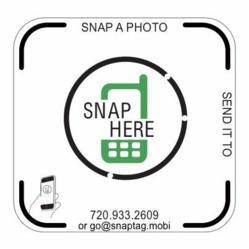 The expertise and support provided by SpyderLynk, combined with their cutting edge technology, represented an ideal opportunity for Chivas' first foray into mobile marketing
Denver, CO (PRWEB) May 10, 2011
SpyderLynk, a leading marketing technology company and creator of the SnapTag™, a logo-centric 2D mobile barcode, has teamed with Pernod Ricard's Chivas brand, Alcone Marketing Group and Urbandaddy.com to engage hip mobile consumers through the Chivas Brotherhood mobile loyalty program.
Qualified participants over the age of 21 can opt-in to join the Chivas Brotherhood to gain access to tastings and special events, as well as enter for a chance to win a trip for four to Scotland. In addition, participants become members of Urban Daddy's free exclusive email magazine to keep hip urbanites in-the-know about the latest events in their cities.
"This is a great opportunity for all of us to demonstrate how easy it is to integrate our 2D mobile barcode solution into traditional marketing efforts. Our cutting edge technology allows Chivas to interact with hip young consumers who like to communicate on one of their most valued possessions that go everywhere they go – their mobile phone," said Nicole Skogg, CEO of SpyderLynk. "Joining Chivas Brotherhood to get great offers is as simple as snapping a picture of the Chivas SnapTag with a mobile phone camera and either texting to a short code/mobile number or emailing it. We send a text to confirm that the mobile user wants to join. It's that simple! We've successfully managed mobile campaigns for beverage brand powerhouses such as Coke Zero, Bud Light, Coors Light and now Chivas – we know what it takes to manage a successful mobile campaign that produces results!"
"We are excited to integrate SnapTags into Chivas marketing mix to advance their loyalty program membership," said Todd Zullo, Account Supervisor at Alcone Marketing Group. "We looked at a number of mobile solutions and felt that the expertise and support provided by SpyderLynk, combined with their cutting edge technology, represented an ideal opportunity for Chivas' first foray into mobile marketing."
About SpyderLynk
SpyderLynk activates branding to drive marketing results. Leveraging innovations in mobile, image analysis and database analytics, SpyderLynk created the SnapTag™, the only logo-centric 2d mobile barcode in the marketplace today. SnapTag technology turns brand logos, featured on any type of packaging, advertising, signage or screens, into interactive marketing tools. Consumers with smart or standard camera phones can snap and send a picture of a SnapTag to instantly access offers, content, promotions, and information. SpyderLynk's proven solution enables brand marketers to drive and measure consumer engagements through mass media while providing sophisticated analytics on consumer behavior, campaign and media impact information.
Leading brands such as Coke Zero, Revlon, L'Oreal, MillerCoors, Warner Brothers, Toyota, Bud Light and others are using SpyderLynk's pioneering technology to engage consumers and accelerate consumer purchasing decisions. Based in Denver, Colorado, SpyderLynk was founded in 2006 and can be found online at spyderlynk.com.
About Alcone Marketing Group
Alcone Marketing Group is a leading Integrated Marketing and Activation agency with offices in Irvine, CA, San Francisco, CA and Darien, CT. Alcone is part of Omnicom Group Inc. For more information, please visit: alconemarketing.com
About Urban Daddy
UrbanDaddy, based in New York City, is a rapidly growing digital media brand, delivering consumers unique and local lifestyle recommendations via the web, email and mobile platforms. The Company publishes content that is entertaining, on point, and actionable. In an online environment diluted by unvetted reviews and biased promotions, UrbanDaddy distinguishes itself as a trusted source of highly curated content, uncovering the best in nightlife, dining, gear, travel, style and leisure. For more information, please visit: urbandaddy.com/home/ntl
About Chivas Regal
Chivas Regal is the flagship Scotch Whisky brand of Chivas Brothers. It is a truly global brand, selling 4.5 million 9L cases annually in more than 200 countries (more than 1 bottle sold every second) – its highest ever volume sales. Chivas Regal has achieved a strong global performance – No 1 in Europe and Asia, with dynamic growth in Eastern Europe, South America and most emerging markets.
The Chivas Regal range, including Chivas Regal 12 , 18 and 25 Year Old, is the epitome of style, substance and exclusivity.
###