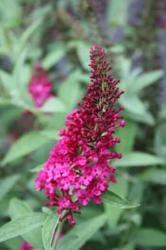 Raleigh, NC (PRWEB) May 12, 2011
Plant Delights Nursery (http://www.plantdelights.com), an international mail order nursery specializing in rare and unusual perennials, in conjunction with NC State University, has publically released two new butterfly bushes; Buddleia 'Miss Molly' and Buddleia 'Purple Haze'. These two plants expand the palette of butterfly bush colors and sizes.
Buddleia 'Miss Molly' has large, fragrant, dark sangria-red flowers. This new color is closest ever to the elusive goal of a pure red butterfly bush. The parents of 'Miss Molly' are the award winning Buddleia 'Miss Ruby' and the widely-popular, cranberry-colored Buddleia 'Attraction'. 'Miss Molly' has a tight, well-branched habit with silvery-green leaves and grows 4-6 feet tall.
Buddleia 'Purple Haze' is the newest addition to the Lo and Behold TM series of dwarf butterfly bushes. 'Purple Haze' features fragrant, dark purplish-blue flowers and silvery-green leaves on a plant that only grows 2-3 feet tall. The Lo and Behold TM series opens up an entirely new role for butterfly bushes in the garden. These dwarf plants may be used as a groundcover, as an edging plant, in mixed borders, and in containers. 'Purple Haze' is sterile so there are no seedlings to worry about.
Like other butterfly bushes, 'Miss Molly' and 'Purple Haze' are deciduous shrubs that bloom over a long period from midsummer until fall. Butterfly bushes attract swarms of butterflies to the garden, and are a valuable nectar source for hummingbirds. They are also deer-resistant. They prefer full sun and survive in USDA hardiness zones 5 to 9. They perform best with plenty of moisture but are very drought-tolerant once established. They require a well-drained garden soil and will not survive in heavy, compacted sites. Butterfly bushes bloom best if the spent flowers are deadheaded every week or so, and look best when pruned back to 12 inches tall in the early spring.
Buddleia 'Miss Molly' and 'Purple Haze' were bred by Dr. Dennis Werner of North Carolina State University. Dr. Werner is the former director of the J.C. Raulston Arboretum in Raleigh. Dr. Werner has been breeding butterfly bushes for over ten years and his releases have won awards and accolades from institutions such as the Royal Horticultural Society in England.
(Images available upon request)
Contact:
Krista Morgan, Administrative Horticulturist
krista(at)plantdelights(dot)com
(919) 772-4794
For more information, visit http://www.plantdelights.com
About Plant Delights Nursery
Plant Delights Nursery is a mail-order and internet-based plant nursery that has been in business since 1988. They hold four open houses per year: winter, spring, summer, and fall. Plant Delights Nursery sells rare and unusual perennials from around the world. Many of their plants were discovered by co-owner, Tony Avent, during his more than 66 plant hunting expeditions to exotic places such as Argentina, China, Crete, and South Africa. In addition to being a plant explorer and businessman, Tony Avent is a renowned plantsman, a successful author and a popular public speaker who tours nationally. Plant Delights Nursery is known for its print catalog which features humorous and topical cover art as well as irreverent, witty and sometimes edgy prose. Plant Delights Nursery and Tony Avent are frequently profiled on television (including The Martha Stewart Show and Almanac Gardener), in magazines (including Southern Living, Horticulture, and Fine Gardening) and in newspapers (including the New York Times, Houston Chronicle, Chicago Tribune, and News & Observer). Proceeds from Plant Delights Nursery support the Juniper Level Botanic Gardens, a six acre garden with extensive research programs that grows over 18,000 different plants. Plant Delights Nursery was named one of the Top 7 mail order nurseries in the U.S. by Garden Design Magazine in their December 2010 issue. http://www.gardendesign.com/brown/best-mail-order-plant-sources?pnid=117161#gallery-content
Plant Delights was also named by Martha Stewart Living in their 2006 list of the best gardening sources.
http://www.marthastewart.com/article/15-years-of-the-best-gardening-sources
# # #