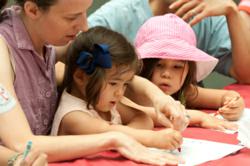 Washington, DC (PRWEB) May 10, 2011
For family-friendly fun, come to the VSA Start with the Arts Festival at the Smithsonian American Art Museum, May 21–22. This free event engages children of all ages and abilities in hands-on art experiences and performances, from dancing to painting to acting and more!
Where: Smithsonian American Art Museum
8th and F Streets, N.W., Washington, D.C. 20004
When: Saturday & Sunday, May 21–22
11:30 a.m.–3:00 p.m.
What: Performances include: ILL-Abilities, a unique dance crew offering a high-energy performance that encourages audience participation; Jadoo, featuring Joshua Routh, who uses masks, mime, and amazing stunts to become a magician, chef, clown, and more; Company d, a nationally recognized dance company featuring young adults with Down syndrome; and Michael "Blindcat" McIntire, who performs an eclectic blend of traditional and original bluegrass.
Hands-on art activities for young artists include:
•Music All Around: From a variety of everyday materials, create percussion instruments and start your own band.
•Spontaneous Creation: The Art of Improvisation: Discover the art of creating characters and scenes using resources from the museum's permanent collection.
•Two Leaves from the Tree of Dreams: Using recycled materials, contribute to a public work of art by creating symbols of what is important to you. Of the two "symbol" leaves designed, one will stay with the public art piece and one can be taken home.
•Moving to the Rhythm: Exploring Creative Movement and Music: Explore creative movement, the joy of motion, and the freedom of expression. Improve balance, coordination, and rhythm through dance.
•Artist Trading Cards: Using a variety of mixed media collage techniques, create miniature works of art.
In addition, May 19–21, the Smithsonian Institution's Discovery Theater will feature daily performances by performing artists with disabilities. Find out more at vsarts.org/swta.
About VSA
VSA, the international organization on arts and disability, was founded more than 35 years ago by Ambassador Jean Kennedy Smith to provide arts and education opportunities for people with disabilities and increase access to the arts for all. With 52 international affiliates and a network of nationwide affiliates, VSA is changing perceptions about people with disabilities around the world. Each year, 7 million people of all ages and abilities participate in VSA programs, which cover all artistic genres. VSA is an affiliate of the John F. Kennedy Center for the Performing Arts. For more information, visit vsarts.org.
###