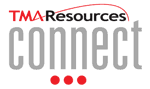 Vienna, VA (PRWEB) May 15, 2011
TMA Resources, the leader in member-centric software, recently launched TMA Resources Connect, a mobile application built on the Personify Mobile Platform. Connect was designed to help TMA Resources customers stay connected while on the go.
Customers can take advantage of the mobile app to update profile information, monitor purchase and participation histories, register for meetings and perform a range of other self-service activities. Customers may leverage a directory to find other customers and keep up with TMA Resources news through Twitter feeds and blog posts.
The mobile app debuted at the recent TMA Resources Annual Users Group (TAUG) meeting in Vancouver, BC. Instead of referring to paper handouts, registrants could use their mobile devices to read the schedule and session descriptions. They could even add sessions to a personal meeting itinerary and to the calendar on their phone. To help navigate the conference facility, users could view maps of the meeting rooms as well as exhibitor tables. Conference attendees were encouraged to use mobile app store and join TMA Resources in making a donation to the Vancouver Aquarium.
TMA Resources Connect is currently available on the App Store for the Apple iPhone platform. Support for the Blackberry and Android platforms is anticipated in the very near future.
Another mobile app, called simply Personify Mobile, is also available in the App Store for organizations wishing to evaluate the first platform solution for member-centric mobile computing. Personify Mobile allows each organizations to publish their own customized app in the appropriate marketplace with their own corporate brand and messaging.
Company Overview
TMA Resources, Inc: Headquartered in Vienna, Va., TMA Resources, Inc. and its team of highly skilled professionals produce member relationship software solutions. Clients include many of the most prestigious professional societies, trade associations, labor unions, and other member-centric organizations in the United States and overseas. TMA Resources was named #288 on the 2010 Software 500 listing and is listed as one of the largest technology employers in the Washington, D.C. metropolitan area by the Washington Business Journal. For more information about the company, visit http://www.tmaresources.com.
# # #