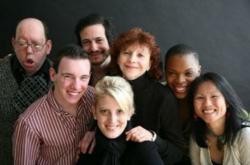 We want to shed light on the disability experience in an honest, forthright, and engaging way.
Washington, DC (PRWEB) May 17, 2011
VSA, the international organization on arts and disability, presents Ping Chong & Company's Inside/Out…voices from the disability community, a performance piece about culture and identity in America, June 17–19, at Round House Theatre in Bethesda, Md.
Called "riveting" with a "wide streak of humor" and "theatrical snap" by The Washington Post, Inside/Out is interview-based theater that weaves the cast members' individual stories with historical events. Spoken word is taken to a new dramatic level in Inside/Out, which engages rhythm, repetition
and role-playing to create a theatrical work that is both thoughtful and thought-provoking.
VSA originally commissioned Inside/Out in 2008, and it premiered at the Kennedy Center later that year. In 2009, the production was presented Off-Broadway at The TimesCenter.
"The disability community is both the largest and the fastest-growing minority in America," said Elena Widder, vice president of public awareness at VSA. "We want to shed light on the disability experience in an honest, forthright, and engaging way."
Written and directed by Ping Chong and Sara Michelle Zatz, a Bethesda native, in collaboration with the featured performers, this production showcases the first-hand experiences of members of the disability community. Individual histories are interconnected in a script performed by the participants themselves, giving voice to individuals whose stories frequently go unheard.
Performers include:

Josh Hecht, a NY-based Drama Desk Award-winning director of new plays whose mother had multiple sclerosis;
Monique Holt, a performing artist whose most recent work includes productions for dog and pony dc and Woolly Mammoth Theatre Company in Washington, DC;
Christopher Imbrosciano, an actor with cerebral palsy and a former apprentice at the Williamstown Theatre Festival;
Zazel-Chavah O'Garra, a dancer (Alvin Ailey), cover model (Essence), disability advocate, and a current VSA Teaching Artist Fellow, who is also a brain tumor survivor;
Vivian Cary Jenkins, a former healthcare administrator who became legally blind later in life;
Matthew S. Joffe, an actor who is senior director of the Office for Students with Disabilities at LaGuardia Community College, and who was born with Moebius Syndrome;
And Blair Wing, an Adjunct Theatre Instructor at Dutchess Community College in Poughkeepsie, N.Y., and a Housing Advocate at Taconic Resources for Independence, Inc., who was paralyzed in a car accident at the age of 18.
Inside/Out is part of Ping Chong & Company's Undesirable Elements, an ongoing series of oral history theater works exploring key issues of identity in different communities. Each production is made with a partner organization in a host community, with local participants testifying to their real lives and experiences.
Renowned New York theater company Ping Chong & Company was founded in 1975 to create and tour innovative works of theater and art that explore the intersection of race, history, culture and technology in the modern world. The non-profit company has produced more than 90 works by Ping Chong and his collaborators, toured widely in the United States and throughout the world, and received numerous honors and awards. Artistic Director Ping Chong is an internationally acclaimed director, playwright, video installation artist, and pioneer in the use of media in the theater. pingchong.org
Performances at Round House Theatre in Bethesda, Md., are at 8 p.m. on Friday, June 17, and Saturday, June 18, and at 3 p.m. on Sunday, June 19. Tickets are $20 general admission, $15 for students, seniors, persons with disabilities, and the military, and can be purchased at roundhousetheatre.org or by calling 240.644.1100.
After this engagement, Inside/Out will travel to Amaryllis Theater in Philadelphia, Penn., June 22–23, 2011. The show was also recently presented at the Flynn Center for the Performing Arts, Burlington, Vermont, on May 15.
About VSA
VSA, the international organization on arts and disability, was founded more than 35 years ago by Ambassador Jean Kennedy Smith to provide arts and education opportunities for people with disabilities and increase access to the arts for all. With 52 international affiliates and a network of nationwide affiliates, VSA is changing perceptions about people with disabilities around the world. Each year, 7 million people of all ages and abilities participate in VSA programs, which cover all artistic genres. VSA is an affiliate of the John F. Kennedy Center for the Performing Arts. For more information, visit vsarts.org.
###