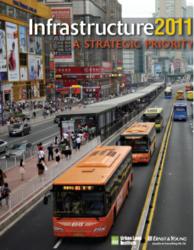 For a nation that prides itself on innovation, enterprise, and leadership, the United States lacks government and corporate initiative in the infrastructure arena, presenting either a stunning paradox or stark evidence of its waning economic clout.
Washington, DC (PRWEB) May 11, 2011
What:
Media-Only Webinar to Release "Infrastructure 2011: A Strategic Priority"
The Urban Land Institute and Ernst & Young are releasing Infrastructure "2011: A Strategic Priority." This latest report, the fifth in a series of infrastructure studies produced by the partnership, tackles challenging and timely issues related to how an investment in infrastructure is prioritized in the U.S. and overseas. Among the issues analyzed:

With so many cities facing funding shortfalls, and pressure mounting to reduce the federal deficit, how can the nation keep infrastructure among its top priorities?
How are other countries treating infrastructure in the post-recession era?
Which of America's cities have infrastructure success stories, and what are they doing that other cities aren't?
The research measures America's investment in transportation and other infrastructure systems against those being built overseas, and offers recommendations that make the case for sound infrastructure planning that supports both economic prosperity and environmental conservation.
The report examines what's working and what's not in 20 metropolitan areas: Atlanta, Boston, Charlotte, Chicago, Dallas-Fort Worth, Denver, Detroit, Houston, Indianapolis, Los Angeles, Miami, Minneapolis-St. Paul, New York City, Oklahoma City, Philadelphia, Phoenix, Salt Lake City, San Francisco, Seattle and Washington, D.C.
Where:
To register for this media-only webinar, please go HERE.
An embargoed copy of "Infrastructure 2011: A Strategic Priority" will be made available to registered media participants just prior to the session.
When:
Monday, May 16, 2011
12:00 p.m. – Eastern; 11:00 a.m. – Central; 10:00 a.m. – Mountain; 9:00 a.m. -- Pacific
Who:
Maureen McAvey, Executive Vice President, Initiatives Group, Urban Land Institute
Malcolm Bairstow, Global Construction & Infrastructure Leader, Ernst & Young LLP
Jay Zuckerman, U.S. Infrastructure Leader, Ernst & Young LLP
About:
The Urban Land Institute (http://www.uli.org) is a global nonprofit education and research institute supported by its members. Its mission is to provide leadership in the responsible use of land and in creating and sustaining thriving communities worldwide. Established in 1936, the Institute has nearly 30,000 members representing all aspects of land use and development disciplines.
Ernst & Young is a global leader in assurance, tax, transaction and advisory services. Worldwide, our 141,000 people are united by our shared values and an unwavering commitment to quality. We make a difference by helping our people, our clients and our wider communities achieve their potential. For more information, please visit http://www.ey.com. Ernst & Young is a client serving member of Ernst & Young Limited located in the United States.
Contacts:
Trisha Riggs, VP, ULI Communications
202-624-7086; priggs(at)uli(dot)org
Tim Gallen, Gallen and Associates
925-930-9848; tim(at)gallen(dot)com
###