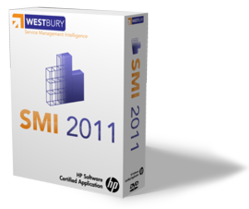 "We see Westbury SMI 2011 as the key off the shelf solution for HP Service Manager customers."
- Jacques Conand, HP
Amsterdam, Netherlands (PRWEB) May 11, 2011
Westbury today announced that, SMI 2011, the company's newest reporting solution for HP Service Manager has passed extensive testing by HP and has become the first product to achieve HP's ITSM Product Quality Certification.
Westbury announced the launch of SMI 2011 on May 5th, but has been working closely with HP on the certification for the last month. As part of the process, SMI 2011 was rigorously tested by HP certification teams working in Shanghai.
Jacques Conand, Product Management Director - Service Manager for HP Software says:
"We're excited to renew and strengthen our partnership with Westbury by certifying SMI 2011 for HP Service Manager. We see Westbury SMI 2011 as the key off the shelf solution for HP Service Manager customers that provides ad-hoc, operational reporting that is powerful, user friendly and flexible. There is a wealth of ITSM information in HP Service Manager and Westbury SMI 2011 is its ideal complement to get at that information."
Floris Verschoor, CEO of Westbury, says:
"We're thrilled that HP has given SMI 2011 its stamp of approval. The testing process was so extensive that we're confident we have a product that will justify HP's confidence in us and in SMI 2011. We look forward to working closely with HP going forward."
SMI 2011 is available immediately.
Established in 1998, Westbury is the worldwide leader in reporting solutions for HP ITSM platforms. Westbury pioneered the principle of Service Management Intelligence, which puts the power of self-service reporting in the hands of those who need it most: process owners, IT managers and decision-makers. Service Management Intelligence allows IT departments to make informed decisions, and prove the value of IT to the business.
Westbury is an HP Software Platinum Business Partner, and has offices in the Netherlands and Cambridge, Massachusetts.
# # #