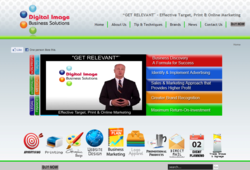 "This site is amazing - with over 100 page links from the home page, the site provides easy access to a broad range of services."
Sarasota, FL (PRWEB) May 11, 2011
A leading edge website has been launched by Digital Image Business Solutions that incorporates a broad range of business and product services targeted at the business-to-business (B2B) community. With over 100 page links from the home page, Digital Image Business Solutions website http://www.dibsflmarketing.com provides easy access to a broad range of services that include video, social media, dynamic navigation icons, website development guidelines, Google keyword tools, and business development principles.
Digital Image Business Solutions' online and offline media marketing teams are led by Gregg Anderson, founder and owner who has over thirty (30) years of business turn-around and search engine business development experience.
According to Anderson, an entrepreneur who started a boutique search engine business in the late 1990's "I recognized the potential of electronic media many years ago and have been building a new marketing, advertising and sales organization focused on utilizing technology to provide business owners with a marketing plan and advertising budget that produces measurable results for their advertising and sales expenses. Anderson continues, "Our new website outlines many of the functional services Digital Image Business Solutions provides our clients while integrating a marketing communication strategy that incorporates print and electronic media into a business development approach that generates leads, increases revenue, and maximizes profits. Whether you are interested in a business discovery session or are ready to buy now, our website guides our visitors through a maze of business options opportunities and decisions."
In fact, to celebrate the website launch we have two special offers for just a short period of time. The first, some exclusive compiled data we have on television commercials as it relates to ROI with other media as well as a "Complimentary 15 Minute Media Feasibility Analysis." The second offer comes to those of a more technical nature and details out "the Best Google Adwords Keyword Tools" for those seeking Google Adwords Keyword Rankings nirvana.
Digital Image Business Solutions was started in February of 2008 and has had rapid growth from inception. Today Digital Image Business Solutions offers our clients both agency retainer and "a la carte" services that include business development, marketing, advertising, graphic design, printing, website development, electronic media, and more.
# # #