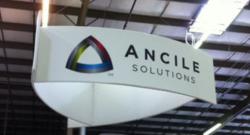 Elkridge, Maryland (PRWEB) May 16, 2011
ANCILE Solutions, Inc., a global company that develops learning and performance software products, today announced news regarding the 2011 SAP SAPPHIRE NOW and ASUG Annual Conference.
ANCILE Solutions is exhibiting at the conference May 15–18 in Orlando, FL. SAPPHIRE NOW/ASUG is the world's premier business technology conference and the largest SAP customer-driven conference. ANCILE is located in booth 2110.
Bayer CropScience, The City of Burnaby, and Orange County Public Schools—all ANCILE uPerform™ customers—will be sharing their experiences during the conference. The schedule is as follows:

Monday, May 16: Bayer CropScience will present "It Takes Two: Combining Process and Tools to Empower Bayer CropScience Key Users."
Tuesday, May 17: The City of Burnaby will present "The Integrated SAP End-User Training and Documentation Strategy at the City of Burnaby."
Wednesday, May 18: Orange County Public Schools will present "Building a Learning Culture to Support Your SAP Investment."
"There is no substitute for the power of users sharing with other users. We are excited to see our customers presenting their best practices and lessons learned to this large gathering of SAP users," said Frank Lonergan, CEO of ANCILE. "In addition, we are looking forward to interacting with both current and prospective customers at our booth this year."
Featured in the SAP Partner Campus will be ANCILE's Director of North American Sales, Josh May, to present "Expand Value: Integrate SAP Productivity Pak with Project Team Solutions," which will focus on how ANCILE uPerform™ (a.k.a. SAP Productivity Pak) integrates with project team solutions to expand project value and ensure end user adoption.
Following the ASUG conference, ANCILE will be exhibiting at the ASTD 2011 International Conference & Exposition in Orlando, FL, May 22–25.
About ANCILE Solutions, Inc.
ANCILE Solutions, Inc. is a global software solutions company specializing in the development and support of learning and performance products. Our products support mission-critical business applications by providing solutions that increase employee productivity and proficiency. ANCILE products are used across all industries and in thousands of organizations globally, including half of the Fortune 100. ANCILE develops, sells, supports, and services ANCILE uPerform™ (rebranded as SAP Productivity Pak), ANCILE uPerform™ Express (rebranded as SAP Productivity Composer), ANCILE uLearn™, ANCILE uBenchmark™, and ANCILE Info Pak™. ANCILE is headquartered in Elkridge, Maryland. For additional information, please visit http://www.ancile.com.
# # #