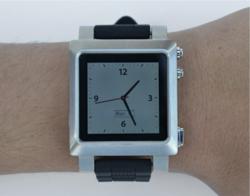 By offering high quality materials and an innovative design, we deviate from all other iPod Nano watch kits.
New Brunswick, NJ (PRWEB) May 11, 2011
In a world full of innovation, All Geek Everything has started producing revolutionary technological products. One of the most appealing products created by Kunal Sheth converts Apple's 6th generation iPod Nano into a modern timepiece. The quality, design, and functionality of the watch compares to no other watch out on the market.
The Paradox campaign, which is currently live on Kickstarter.com, allows owners of the iPod Nano to fully incase their product and convert their Nano into a premium "smart" watch. The iPod Nano features a sharp analog clock face and comes with features found on many high-end watches, such as a stopwatch and timer. In addition to features seen on traditional watches, simple functions such as a FM radio, flash drive compatibility, photo viewing, and a pedometer are additional features included thanks to the iPod Nano's similarity to the iOS operating system.
The Paradox conversion kit is one of few iPod Nano kits ever designed, but creator Kunal Sheth is confident that The Paradox offers a sophisticated style that is incomparable to other conversion kits available. Being a watch connoisseur, Sheth highlights four prominent differentiations highlighted in his conversion kit in comparison with other conversion kits. He says, "The brushed finished stainless steel body, top down industrial design, interchangeable straps and external buttons bring the whole design together and transform the iPod Nano into a proper watch. By offering high quality materials and an innovative design, we deviate from all other conversion kits."
The Paradox iPod Nano conversion kit may soon be commercially available, if Sheth's company All Geek Everything reaches its $15,000 pledge goal at the entrepreneurial website Kickstarter.com, which has been featured on CNN and in The New York Times. The minimum pledge is only $1 and requires a quick and painless registration process. Sheth remains confident that the most beautiful iPod Nano watch conversion kit will soon become a reality. He says, "Modern geeks will love the ability to have a powerful piece of technology like the iPod on their wrist, in such an elegant looking timepiece."
For more information on the Paradox Conversion Kit, visit the official pledge page. You can also visit All Geek Everything at http://www.AllGeekEverything.com for additional information.
About Us: All Geek Everything was founded by Kunal Sheth, a 21-year-old finance major currently enrolled at the Rutgers Business School in New Brunswick, NJ. The company's mission is to "design products for geeks by geeks."
###