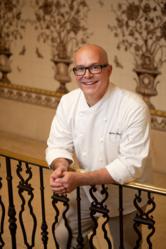 "I had both the first cake falling and last cake standing," Chef Ruskell said with a smile. "We jumped through a lot of hoops on the show – we called them cake hijinks – but it was a lot of fun and some great competition."
Beverly Hills, CA (PRWEB) May 10, 2011
Sunday night on the finale of Food Network's Last Cake Standing, Montage Beverly Hills' Executive Pastry Chef Richard Ruskell was awarded the $100,000 grand prize and named "Best Cake Artist in America."
In a dramatic comeback story, Richard returned to the competition after being eliminated in a previous episode. The finale was appropriately set in Las Vegas, where anything can happen. The finalists each made a wedding cake for one lucky couple and it was Chef Ruskell's which emerged victorious.
"I had both the first cake falling and last cake standing," Chef Ruskell said with a smile. "We jumped through a lot of hoops on the show – we called them cake hijinks – but it was a lot of fun and some great competition."
Chef Ruskell hosted a viewing party for the finale in the Marquesa ballroom at Montage Beverly Hills. Guests watched with baited breath, while enjoying a recreation of Richard's winning wedding cake entry. He will get to serve as a judge for the next season's competition, and while he says he won't be "lenient" to the new crop of contestants, he will be more understanding of what they're going through.
In addition to continuing his artistic pastry interpretations at Montage Beverly Hills, Chef Ruskell will host an intimate pastry class of approximately 20 students on the last Wednesday of every month, starting May 25, 2011. He envisions an interactive demonstration class, where every student not only gets to keep Chef's recipe, but gets to eat whatever he demonstrates, too. It's all part of an effort to reintroduce approachability to baking.
"Every year it seems baking becomes a little bit more of a lost art," he says. "This isn't a master class and I'm not looking to go over anyone's head. I just want to take away the fear of baking and let them have fun with it. Sometimes you need to 'see' a recipe prepared to better understand what's on the page."
Chef Ruskell joined Montage Beverly Hills as Executive Pastry Chef after five years overseeing bakery operations for the three dining venues at Montage Laguna Beach, including the signature restaurant Studio. Previously a baking instructor and chef at the New England Culinary Institute, Ruskell has also held esteemed tenures as the owner and operator of Pastry Maxine in Scottsdale, Chef Pastissier at The Phoenician in Phoenix and pastry apprentice at Hotel Gray d'Albion's Le Royal Gray Restaurant in Cannes, France.
Originally trained as a stage performer, Chef Ruskell turned to the culinary arts as a way to fulfill both his artistic bent and epicurean passions. A six-time Food Network Challenge winner and named one of the "Top Ten Pastry Chefs in America" by Chocolatier magazine, Ruskell's culinary repertoire has allowed him to distinguish himself as one of the few pastry chefs who can truly do it all. A firm believer that food should never be too beautiful to eat, he specializes in desserts that are as incredible to look at as they are delicious to consume.
In addition to his Food Network honors, Chef Ruskell has accrued numerous awards and accolades during his career and has appeared as a guest pastry artist at esteemed culinary institutions throughout the country. He was recently awarded a Lifetime Achievement Award during the Tulsa State Sugar Art Show, which holds the largest wedding cake decorating competition in America. He has appeared in Bon Appétit, Gourmet, Pastry Art & Design, Travel + Leisure, among others.
About Montage Beverly Hills
Awarded Forbes Five Star status in groundbreaking time, Montage Beverly Hills features 201 well-appointed guestrooms, including 55 suites, paying tribute to both old-style Hollywood and modern day luxury. The exterior, designed in the Spanish Colonial Revival style complements the rich history and tradition of Southern California's most celebrated neighborhood. Located steps from Rodeo Drive in the heart of the Golden Triangle, guests and residents find convenient access to luxurious retailers and exquisite dining. Through every facet, Montage Beverly Hills embodies the essence of Hollywood's Golden Age. With the commitment to sustainability, Montage Beverly Hills was the first hotel and residences to receive Gold LEED certification in Southern California. For information and reservations, please contact Montage Beverly Hills at (310) 860-7800 or visit the Web site, http://www.montagebeverlyhills.com.
About Montage Hotels & Resorts
Montage Hotels & Resorts is a hotel and resort management company founded in 2002 by Alan
Fuerstman. Designed to serve affluent travelers and homeowners, the company features an artistic collection of distinctive hotels, resorts and residences in stunning settings that offer comfortable elegance, a unique sense of place and spirit, impeccable hospitality and memorable culinary, spa and lifestyle experiences. Montage Laguna Beach, the company's flagship oceanfront resort, opened in the vibrant arts community of Laguna Beach, California, in 2003. Montage Beverly Hills, the company's second hotel, opened in Beverly Hills in 2008 and was the first Gold LEED certified hotel and residences in Southern California. Montage Deer Valley, located in Park City, Utah, is the company's third property which opened in December 2010. http://www.montagehotels.com.
Media Contact:
Kristy Karlovec
Public Relations and Marketing Manager
Phone: (310) 860-7804
KKarlovec(at)montagehotels(dot)com
Jamie Foley
M Booth & Associates
Phone: (850) 570-1003
JamieF(at)mbooth(dot)com
###