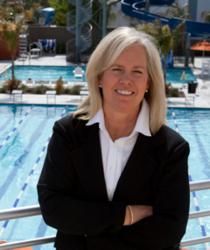 Corona, California (PRWEB) May 11, 2011
Fitness industry veteran Jill Kinney is named Board Chair of Glen Ivy Hot Springs, the California destination day resort now celebrating its 151st year. Shareholders of Glen Ivy Hot Springs, Inc. re-elected its seven-member Board of Directors this April at its most recent meeting held on-site at the dozen-acre historic property in Corona, Calif. Kinney, the new Board Chair of the seven member team adds to a diverse group of individuals with a shared commitment to the timeless values of Glen Ivy as a spa operation, stability as a company, and opportunities for new programs and development.
The Board of Directors for the year 2011-2012 include:

Board Chair Jill Kinney, the Managing Director of Clubsource Development Partners LLC, a full-service design and development company specializing in health clubs, is an industry leader in health and fitness. She has earned the title "America's #1 Female Entrepreneur" as Co-Founder of Club One, specializing in high-quality fitness centers and one of the leading management companies in the U.S. for corporate fitness centers, community centers and private clubs, recognized as an INC 500 Company, one of "The Fastest Growing Women-Owned Businesses" by The Business Times, and "One of the Top Five Health Clubs in America." Kinney has served on numerous industry and community boards including the International Racquet and Sportsclub Association (IHRSA), the American Council on Exercise (ACE) and she is also currently a member of the Advisory Board for Shape Magazine and Presidio Bank. Recently inducted into the Wellness Revolution Hall of Fame, Jill is a well-versed authority on the subject of health and fitness and has spoken extensively around the world; her expertise will lend guidance as Glen Ivy Hot Springs continues to expand its program offerings of workshops, classes and retreats for guests. Yoga, T'ai Chi, Aqua Aerobics, Pilates, guided meditation, creative renewal workshops, and a new labyrinth are just some of the programming highlights at the Spa.
Jim Root, CEO and President, is in his third year of service with Glen Ivy Hot Springs, Inc. He has enjoyed a 34-year career in hospitality and spa management at some of the leading resort and destination spas in the country. Under his leadership the Hot Springs has increased attendance by 35% to over 193,000 guests in 2010, and won numerous local, regional and national awards, including Spa Magazine's Silver Sage award for "Favorite Spa for Cuisine." Root is a Past Chairman of the Board of Directors of the International Spa Association (ISPA), the leading worldwide professional organization of the spa industry. He received a B.S. from the Cornell University School of Hotel Administration in 1977.
Richard Bishop is a consultant and works with a diverse group of emerging enterprises and non-profit organizations, currently serving as the Secretary of the Board of Directors of the Institute of Noetic Sciences. He is a retired CPA with experience from broad, strategic management matters to technical accounting issues and detailed system designs.
Sean Handler is the Director of Spas for BOYNE's Michigan Operations. Handler has extensive experience in spa creation and design, having opened two spas for KSL Resorts, Grand Traverse Resort of Traverse City, Mich. and La Costa Resort of Carlsbad, Calif. He is an active member of the International Spa Association and has a Bachelor in Business from Western Michigan University with Honors.
Brian Lanes is the owner of Wintergreen Corporation which provides value-based consulting services to health professionals, small business owners and entrepreneurs. He resides in Austin, Texas and is a shareholder in Glen Ivy Hot Springs, Inc.
James F. Rogers is a former management consultant and was a Senior Partner with Marketing Corporation of America and a Vice President with A. T. Kearney. More recently he was Vice President of Marketing for Lincoln Mercury, where he was named a BrandWeek Marketer of the Year. He is a graduate of Dartmouth College (Economics, Magna cum Laude with Distinction in Major) and has an MBA from The Tuck School of Business.
David Washington is the Director of Operations for Emissaries of Divine Light (EDL), Calif. on whose board he serves as a Director. Washington has a long and distinguished career in management for a variety of large and complex construction projects, including The LiRo Group, a consulting engineering firm that is primary in coordinating the rebuilding the World Trade Center Site and Lower Manhattan in New York.
Glen Ivy Hot Springs, Inc. is a privately-owned California corporation currently doing business in Riverside, Orange, and Los Angeles counties. Operations of the historical Hot Springs Spa in Corona, California and Glen Ivy Day Spa Brea, in northeast Orange County and Glen Ivy Day Spa, Valencia in the Santa Clarita Valley in northern Los Angeles County have been bringing health and well-being to over 275,000 guests a year in Southern California.
About Glen Ivy Hot Springs
Glen Ivy Hot Springs' 12-acre grounds feature a wide variety of botanical gardens and landscaping in addition to the famous natural thermal mineral baths, seventeen pools and spas, and "social" spa experiences including Club Mud, California's only therapeutic red clay mud bath, and The Grotto, a rich body moisturizing treatment in a unique underground environment. Glen Ivy's award-winning Executive Chef Bill Wavrin features healthy cuisine prepared fresh daily in the Spa's Café Solé and new sushi, temaki and shaved ice eatery, Sunflower. In addition to its own organic garden, ingredients are sustainable and sourced locally. An expanded wellness program is new this year and includes classes ranging from T'ai Chi, Yoga, and aqua aerobics to musical performances, inspirational workshops, and multi-day retreats. Established as a commercial operation in 1860, Glen Ivy Hot Springs later expanded with the opening of day spa facilities in Brea, Calif. in 2002 and Valencia, Calif. in 2005. In 2010 Glen Ivy Hot Springs celebrated its 150th anniversary and welcomed its three millionth guest since incorporation in 1977, and now serves over 275,000 guest visits annually, employing 450 people. A Founding Seed Spa in the Green Spa Network and member of the International Spa Association (ISPA) and the Day Spa Association, Glen Ivy Hot Springs was named Favorite Hot Springs Spa, Favorite Day Spa, Favorite Spa for Cuisine, and Favorite Affordable Spa in Spa Magazine's 2010 Reader's Choice Awards.
For more information about Glen Ivy Hot Springs, photos, or to arrange an interview or media visit, please contact Jennifer Merrett at jennifer(dot)merrett(at)glenivy(dot)com.
# # #