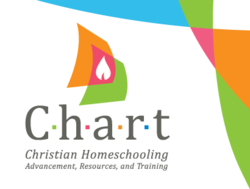 When you and your child understand the 5-part writing process, your child's writing will improve and your confidence in your ability to teach and assess his work will also improve.
(PRWEB) May 11, 2011
Greenville, SC: Eileen Berry, author of several children's books and writer for BJU Press textbooks, is uniquely gifted to discuss the topic of teaching writing to children. In this seminar, she will share her understanding of the way children relate to words, offering suggestions for making the writing process exciting and fulfilling for homeschool students in the elementary grades. Home educators who recognize the importance of the writing skill to their child's education and future career will want to participate in this seminar.
Previous CHART seminars in this 2011 series focused on teaching phonics and spelling. The most recent seminar, "Math Manipulatives: Making Math Come Alive," was presented by Sharon Fisher. She suggested practical ways in which the homeschool parent can turn the difficult subject of math into an enjoyable opportunity for teaching critical-thinking skills.
Many homeschool parents feel uneasy about teaching and grading writing. They may lack confidence in their own writing ability and wonder how they can teach a child this essential skill with any degree of success. "Assessing writing can be difficult since it is subjective," says Eileen. "When you and your child understand the 5-part writing process, your child's writing will improve and your confidence in your ability to teach and assess his work will also improve."
Eileen Berry holds a B.A. in Creative Writing and an M.A. in English from Bob Jones University. She has contributed stories, poems, nonfiction, and teacher instruction to a wide variety of elementary educational materials from BJU Press. She was one of the core authors of the current Elementary English materials and has presented workshops on the writing process and teaching composition and grammar. Eileen is the author of five children's books and a number of sacred choral lyrics.
In the upcoming seminar, Eileen plans to explain each step of the writing process—planning, drafting, revising, proofreading, and publishing. Parents will learn how to help a child think ahead, organize his ideas, and present them in a clear and effective way. Tips for keeping the momentum going once writing has begun and ideas for helping the child learn to revise and polish his own work will also be a major part of the seminar.
Since writing assessment is a major concern for parents, Eileen will discuss a variety of types of writing—including the research report, the fictional story, and the personal narrative—and then list the elements that should be present in any rubric used to grade writing. "Every rubric should include a section for general comments," says Eileen. "This section is the place for the words of praise that are so important to a young writer."
Incorporating the writing process, planning and organizing in an appropriate way, and using rubrics for assessment can bring clarity and enjoyment to the study of writing. "Because God has chosen to communicate with us through the written word, we have an excellent reason to value it too," says Eileen. "I hope that after you attend this seminar, you can encourage your child to appreciate written communication and to express his ideas more freely and clearly in that mode." Attendees will have ample opportunity after the seminar to ask Eileen questions about teaching writing in the early grades.
Join Eileen Berry and the CHART team on Thursday, May 12, 2011, at 2:30 pm EST for the next CHART online seminar. The seminar is free, and the only software requirement is a web browser and Adobe Flash. Visit http://www.bjupress.com/go/writing to sign up for a free login or view information about future seminar topics. You can also view previous seminars from the CHART archives.
CHART online seminars are hosted by BJU Press. BJU Press exists to encourage Christian character in students and promote academic excellence through the provision of K4–Grade 12 educational materials and support services. In addition to textbooks and materials, we offer homeschool testing services, distance learning programs, and other homeschool resources.
###