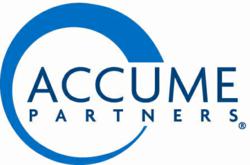 I am eager to work with our talented team and remarkably committed clients as we go forward.
New York, NY (PRWEB) May 12, 2011
Accume Partners, a leading provider of internal auditing and advisory services, announced that Mark Lindig has been appointed CEO to lead Accume in its next stage of evolution and growth. Mr. Lindig has served as a Regional Managing Director for Accume since August 2010. Over his prior 25-year career with KPMG, he served in a variety of regional, national and global leadership roles in KPMG's internal audit, risk management and regulatory compliance practices, focused in highly regulated industries including financial services, governmental, public utilities, telecommunications and others.
Lindig succeeds Fred Nitting, who will assume the role of Managing Partner focused on expanding and diversifying the firm's portfolio of clients and services. Lindig stated, "It is clear that the environment in which regulated businesses must operate has changed dramatically over recent years, particularly for banking and financial services institutions. It is also clear that almost all businesses are regulated in some increasing way. Our professionals are amongst the deepest and most experienced in the marketplace, and we remain committed to serving our clients with quality and excellence to enable their success, and ours, in these challenging times. I am eager to work with our talented team and remarkably committed clients as we go forward."
Nitting stated, "Mark understands where Accume has come from, how the company has evolved and where we need to take it next and I am eager to lead our growth initiatives going forward."
In a statement, Rick Bobrow, Chairman of the Board of Accume Partners, says, "The Board greatly appreciates Fred's hard work and dedication over the past 3 years as CEO. He successfully led the Firm through one of the most challenging economic periods in decades while maintaining its financial well-being and standing in the industry. This will serve as an excellent foundation upon which Mark can build."
About Accume Partners
Accume Partners helps organizations mitigate risks, enhance the overall control environment, achieve compliance with the latest rules, regulations and pronouncements, and improve overall operational efficiency. Accume's scope of services include risk management, regulatory compliance, internal audit, Sarbanes-Oxley compliance, FDICIA compliance, board of directors/audit committee briefings, training, information security, pre- and post-system implementation reviews, business continuity planning, and process improvement advisory. For more information, visit http://www.accumepartners.com.
# # #