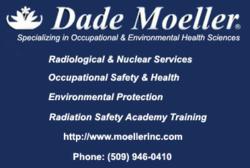 "We congratulate Jason on this tremendous recognition from AIHA, and we look forward to his continued contributions to our firm and clients and, most importantly, to these two important scientific fields."
Richland, WA (PRWEB) May 12, 2011
Today, Dade Moeller announces that employee Judson L. Kenoyer, a certified industrial hygienist, has been named to the 2011 Fellow Class of the American Industrial Hygiene Association (AIHA). Kenoyer, who also is a certified health physicist, is a Fellow of the Health Physics Society as well and is now the only living person to have earned the honor of being a "double Fellow" of these two organizations.
"We are impressed by Judson's achievements in both the industrial hygiene and health physics disciplines," said company CEO Matt Moeller. "We congratulate him on this tremendous recognition from AIHA, and we look forward to his continued contributions to our firm and clients and, most importantly, to these two important scientific fields."
Kenoyer has worked in the Industrial Hygiene and Health Physics fields for 36 years and has provided management, technical leadership, and assistance in several related areas at Dade Moeller, and currently for its affiliate Dade Moeller Technical Services. His experience emphasizes line, project, and program management, operational health physics and industrial hygiene, radiation protection instrumentation calibration and performance testing, occupational safety, generation and characterization of complex pollutant atmospheres, inhalation toxicological studies, and emergency preparedness. Currently, Kenoyer is Director of the Environment, Safety, and Health Division of the WSI-SRS Team, which includes Dade Moeller Technical Services and is providing security services under contract to the U.S. Department of Energy at its Savannah River Site in Aiken, S.C.
Kenoyer will be honored as an AIHA Fellow at 4:00 p.m. and 6:30 p.m. on Wednesday, May 18, 2011, at the Hilton Portland Hotel, in conjunction with the 2011 American Industrial Hygiene Conference and Exposition in Portland, Ore.
Headquartered near the U.S. Department of Energy's Hanford nuclear site in Richland, Wash., Dade Moeller is a nationally recognized firm that provides a full range of professional and technical services to federal, state, and commercial clients in support of nuclear, radiological, and environmental operations. The company specializes in radiation protection, health physics, worker safety, and radiation training. The company's staff members are trusted professionals with proven performance helping its clients protect people and the environment. Founded in 1994, the Company proudly bears the name of Dr. Dade W. Moeller, a premier scientist and educator in the fields of health physics and environmental health. Dade Moeller is actively hiring new Industrial Hygiene staff across the country.
# # #