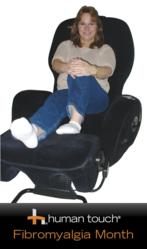 Thank you Human Touch.
I feel like you have given me a part of my life back!
Long Beach, CA (PRWEB) May 10, 2011
Throughout the month of May, Human Touch®, the U.S. market leader of innovative massage chairs, Perfect Chair® recliners, and other wellness solutions, is honoring National Fibromyalgia Month by hosting a special social media awareness campaign that brings fibromyalgia sufferers and their loved ones together for inspiration, coping strategies, and personal stories about life with this chronic pain disorder. Human Touch® encourages all of those who are living with or affected by the disease to connect on Facebook and Twitter @HTFeelBetter.
During National Fibromyalgia Month, those who are living with or affected by fibromyalgia can get wellness tips, personal stories, and support @HTFeelBetter by joining the conversation on Facebook and Twitter. Topics range from how to reduce chronic pain naturally through regular massage therapy and other holistic approaches, to strategies for achieving a better night's sleep.
Additionally, starting on Fibromyalgia Day, May 12, Human Touch® will be showing its support by giving away a foot & calf massager on the Human Touch® Wellness Center on Facebook. At 3:30pm PST, Human Touch will ask a question on the Facebook page and choose the winning answer, awarding the recipient with a foot & calf massager on May 13. Two additional foot & calf massager giveaways will then be announced after May 13, taking place throughout the month. Featuring patented Figure-Eight Technology®, the Human Touch HT-1350 Pro Foot and Calf Massager massages calves in an upward, rolling or "wave-like" fashion, which forces blood away from the feet and toward the body's core to improve blood circulation and overall wellness. This is very beneficial to fibromyalgia sufferers because it helps to reduce pain and stiffness, which promotes increased flexibility and better sleep patterns.
Human Touch® Wellness Ambassador Gwyn Anderson, who suffers from a rare form of fibromyalgia, will also be engaging with fans and sharing her tips for living well throughout the month on the Human Touch® Wellness Center on Facebook. Coming from the world of muskular skelatal myofacial pain, Gwyn's daily experience is as painful as fibromyalgia, just not as easy to tame. She has been able to manage and drastically reduce her pain with daily use of her Human Touch® Massage Chair: "I have had the opportunity to use two different massage chairs and one portable foot & calf massager from Human Touch®. These are by far the best massage products I have ever used and I have tried almost everything on the market. I suffer with chronic, degenerative pain and cannot imagine life without my Human Touch® massage chair. It literally makes the difference of whether I can walk or not. It is better than gold. I am so thankful for Human Touch®."
"This month, we are bringing many individuals together to share, inspire and educate about fibromyalgia, a chronic pain disorder that affects people physically, mentally and socially," said David Wood, CEO of Human Touch, LLC. "We hope that through our efforts, more people will make new lasting friendships and gain more of the insight they need to feel less pain and live better. Human Touch® recognizes its social responsibility and is proud to help individuals with fibromyalgia achieve wellness in their everyday lives."
Fibromyalgia affects an estimated 5.8 million Americans. Symptoms include chronic pain in the muscles, fatigue, sleep problems and painful tender points or trigger points at certain parts of the body. Fibromyalgia pain and other symptoms can be relieved through medications, lifestyle changes, stress management, and other fibromyalgia treatment. (WebMD) Many with fibromyalgia have found that incorporating regular massage therapy and exercise into their disease management program can greatly reduce their pain, so they can enjoy a healthier and more productive life.
About Human Touch®
In pushing the boundaries of its traditional massage chairs and wellness products through advanced proprietary technology and innovation, Human Touch® is focused on infusing health and wellness into everyday lives through high-quality, design-oriented and award-winning massage chairs, Zero-Gravity Perfect Chair® Recliners and other wellness products and solutions. Human Touch® has been making people feel better™ for more than 30 years by developing state-of-the-art massage and wellness products, as well as by providing valuable consumer education about the substantial health and wellness benefits of regular massage therapy, relaxation and proper posture. Stress relief, increased range of motion, pain relief, improved circulation and increased immunity are just some of the valuable health benefits associated with regular massage therapy. Human Touch® products are available at back care specialty stores, fine furniture stores across the country, through international retailers and distributors in more than 40 countries, as well as online at humantouch.com.
###