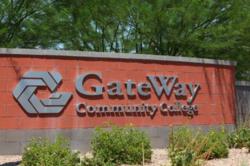 The thirteenth of May will be a special day for the 1,622 graduates of GateWay Community College
Phoenix, AZ (PRWEB) May 11, 2011
The thirteenth of May will be a special day for the 1,622 graduates of GateWay Community College (GWCC) who will be awarded their certificates of completion and/or associate degrees as part of the college's Commencement and Nurse Pinning ceremonies. The Pinning Ceremony for graduating nursing students will be held on Friday, May 13, beginning at 3:00pm. The Commencement Ceremony for certificate and degree candidates will follow at 6:45pm.
Both events will take place in the Worship Center of the North Phoenix Baptist Church, which is located at 5757 North Central Avenue in Phoenix. Free parking will be available at each event.
For more information about the ceremonies as well as a map to North Phoenix Baptist Church visit: http://www.gatewaycc.edu/Commencement.
ABOUT GATEWAY COMMUNITY COLLEGE
As one of the Maricopa Community Colleges, GateWay Community College is a fully accredited public institution of higher education located in Phoenix, Ariz. Offering over 100 Certificate and Associate Degree programs in the areas of Business and Information Technology, Health Sciences, Industrial Technology, Nursing and University Transfer, GateWay has emerged as a leading institution to meet the needs of business and industry. Visit http://www.gatewaycc.edu or call 602-286-8048 for more information.
###