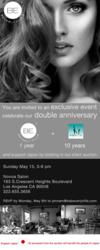 BE Beverly Hills is a company focused on creating amazing Eco-Luxury products, but we are also a company that has successfully created one of the largest beauty channels in social media today
Beverly Hills, CA (PRWEB) May 11, 2011
In the last year, the creative force behind the celebrity favorite Inspired Shine & Repair Serum has generated innovative and non-conventional approaches to marketing. BE Beverly Hills premiered on Facebook before other beauty product companies began promoting through social media. Today, BE Beverly Hills is a fan favorite on Facebook, Twitter and YouTube with a huge following of over 125,000 fans on Facebook alone, making BE Beverly Hills one of the top five beauty brands in social media.
BE Beverly Hills is focused on leading innovation in the beauty industry and is once again leveraging social media. To celebrate its first-year anniversary, BE Beverly Hills will host one of the first sponsored auctions in social media. The all-natural, eco-luxury brand will use Facebook and Twitter to reach its participants with 100% of the proceeds going to Japan Relief. Auction items will include products and services from Russell Simmons, Oliver Peoples, Modern Luxury, Apple, Macy's, Steven Land, Frankie Payne (celebrity stylist of the Kardashian Family, Nicole Scherzinger and Michelle Williams) and many other prominent brands.
"BE Beverly Hills is a company focused on creating amazing Eco-Luxury products, but we are also a company that has successfully created one of the largest beauty channels in social media today," says Creator and Co-Founder, Michele Owen. "We believe social media is more than just a Facebook page. It's a modern day platform that allows us to share our opinions and points of view. This is why we have elected to leverage our Facebook presence to launch one of the first auctions to help Japan and the environment."
In conjunction with BE Beverly Hills' social media auction, the company will celebrate its one-year anniversary on May 15, 2011, 2 P.M., at the ultra-chic Novoa Salon, 163 S. Crescent Heights Blvd., Los Angeles, CA 90048. This celebration will be broadcast live on Facebook at http://www.facebook.com/bebeverlyhills or http://www.livestream.com/BEBeverlyHillsTV.
About BE Beverly Hills:
BE Beverly Hills, the original ECO-LUXURY brand and creator of the award-winning Inspired Hair Care Line, was created by women with the mission to empower women. The inspiration to create an eco-friendly beauty line comes from the idea that a woman is most confident when she is radiant and beautiful. Using high-quality natural ingredients and revolutionary formulas, BE Beverly Hills eco-luxury hair care line regenerates and improves the overall health of hair safely and effectively.
For more information on BE Beverly Hills and Inspired Shine & Repair Serum please contact Keith L. Underwood of UMA Worldwide at 323.298.0929 or by email at keith(at)umaworldwide(dot)com. Be sure to also visit BE Beverly Hills on the web at http://www.bebeverlyhills.com.
###