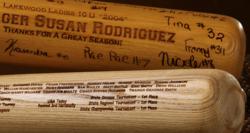 Granada Hills, CA (PRWEB) May 12, 2011
The Bat Factory is proud to announce the launching of a new website designed for those looking to get their coaches and baseball players a unique gift or award. The custom, laser engraved wooden bats are made in the USA and have more engraving areas that any other bat being produced. Coaches gifts and team awards are the specialty of this company that has been around for nearly a decade. The Bat Factory is excited about the international possibilities following their website launch.
The Bat Factory was born out of the desire to provide the finest coach and athlete award for baseball players everywhere. Whether you are honoring your baseball or softball MVP's, ALL STAR teams, high school or college Senior Year Players, or Championship type seasons; The Bat Factory has the perfect baseball bat for your engraving. Our Ultimate Trophy Bat is the most unique wooden bat that they have created. Not only does it include the normal engraving on the front and the back, but they also engrave each player's signature into the bat forming the most meaningful coach's gift on the market. This Ultimate Trophy Bat is priceless to those who receive this incredibly special honor and also those who are a part of giving it. Most teams divide the cost among themselves and thoroughly enjoy the very special moment of giving this heartfelt gift.
Baseball/Softball is the heartbeat of coaches, young Americans and children all around the world and has stood the test of time; they are as American as the Red, White and Blue. Their goal is to provide the most unique, quality trophy baseball bat that will keep memories alive for a lifetime. Each product is made in the USA of the highest quality Birch and Maple, and laser engraved with the highest of precision. These wooden bats are shipped worldwide for trophy baseball bats, athletic awards and coaches gifts in many different languages. All of their bats are laser engraved using the most modern technology that provides a finished product that will be the joy of your athlete or coach for years to come. The Bat Factory is a division of Keeping Memories Alive Online (KMA) which is dedicated to sports awards and coaches gifts that will forever ensure that your memories are safely honored in our laser engraved products.
The Bat Factory is very proud to be a part of the Wounded Warrior Project and donates a portion of its proceeds to this foundation, which is dedicated to helping rehabilitate wounded veterans following battle injuries. The Bat Factory is also proud to be a part of the Make-a-Wish Foundation and donates a portion of its proceeds to that organization as well.
Testimonial from Eric Jacoby:
"Having been a team parent for my son's youth baseball league, I know the frustration that we all feel trying to find the perfect coaches gift that portrays our appreciation for all the efforts and sacrifice that our coach has endured throughout the season. We all wanted a unique gift that would capture the memories of the season and immortalize the children forever with our coach. I know I never could have accomplished what he has done for the kids."
"As I searched the web for his gift, I noticed the awards all looked the same and none of them had the unique, personalized qualities I was looking for in our gift. A friend showed me an engraved bat that he got from you at thebatfactory.com. I had never seen anything like it before. I was blown away by the detail and quality. It was so unique that I knew it was the right gift for us."
"We had bats made and couldn't wait until the year end party to present it to the coach after the season. When our coach opened his package with his full size, custom engraved baseball bat, he was simply shocked! The engraving was beautiful and perfectly displayed our gratitude for his efforts. He immediately began to fight back the tears of pride and joy when he noticed the entire roster of the kids on the back; including his assistant coaches! The kids all hugged him and it was quite a moment. What made it an even greater event was that I had also purchased 18" mini-bats for all the kids with the roster engraved on the back. Even years later, those bats are precious treasures full of special memories and friendships."
Eric Jacoby
###