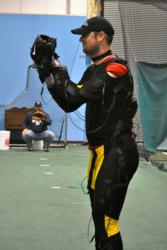 Face the Ace Games unveils new 3D mobile app that puts you in the batter's box facing one of baseball's best, Jon Lester.
Boston, Mass. (PRWEB) May 12, 2011
Developer of 3D mobile games and applications, Face the Ace Games, today announced that Red Sox Ace Jon Lester will be the first pitcher featured in its forthcoming mobile 3D video game, Hardball Ace.
The game will be available as a free download and retail for $4.99 for the full version at the iTunes store, Android Market, and on Facebook starting June 2, 2011.
For the past nine months, Face the Ace Games has worked with Lester to fully capture everything from his motion on the mound to his pitch selection and ball speed to shoulder angle to even ball movement and exact timing of his release to give mobile app users not just a "likeness," but an exact simulation of what it's really like to step in the batter's box and face one of the best pitchers in the game today.
"I am honored to be selected to work with Face the Ace to give baseball players and fans a one of a kind gaming experience," said Lester. "The process of creating the game has been humbling, from wearing the motion capture suit, to seeing the technology to begin to take form. I can't wait to see the final version to see exactly how close it comes to the real me."
Further blurring the lines between game and reality, "Hardball Ace" allows players to accumulate points that in time can be exchanged for real life prizes. Players will also have a chance to communicate with Jon directly through the game's "Locker Room" section where he will send and receive tweets with players directly.
"Hardball Ace will literally give baseball fans a never before seen look at what it's like to truly face one of the top aces in the game today," said Jim Langford, chief technology officer, Face the Ace Games. "In the last couple years, Jon has proven that he is one of the best pitchers in Major League Baseball. His portfolio of just deadly pitches makes him the perfect subject for 3D game simulation," added Jeremy Bargiel, chief operating officer, Face the Ace Games.
Hardball Ace Fans will have a chance to test out the game in the weeks prior to its official release by visiting http://www.facebook.com/facetheacegames.
About Face the Ace Games
Face the Ace Games is a developer of 3D mobile games and applications with offices in Chicago and Maui, Hawaii. Our mobile model combines ultra realistic graphics and an interactive social strategy to deliver a one-of-a-kind entertainment experience and a unique in-game marketing opportunity for potential sponsors. The team includes: Jim Langford, Chief Technology Officer, founder of Pacific Technology, and the revolutionary developer of the first successful time-based tracking system for vacation ownership in sales galleries implemented worldwide for Starwood Hotels & Resorts™, Hilton International™ among others; Jeremy Bargiel, Chief Operating Officer, an Emmy-nominated writer and producer for the Disney Channel, Nickelodeon, and the Cartoon Network; David Nolte, Game Designer and Project Manager, a 20-plus year vet of the electronic game industry who previously worked with EA Mobile as the general manager for their Hawaii studio (formerly Blue Lava Wireless); and Rob Maylor, Business Development/Executive Producer, an attorney, former celebrity ghostwriter and the co-founder of Distilled Clothing. He served as General Counsel for Distilled, in addition to spear heading their sales strategy and brand development until its acquisition in 2009. He collaborates with Jim and Jeremy for Face the Ace Games investor and corporate relations, sponsorship acquisition, marketing and overall corporate planning.
Visit http://www.facetheacegames.com and follow us on Twitter @facetheacegames or Like us on Facebook.
About Jon Lester
Jon Lester is a left-handed MLB All-Star starting pitcher for the Boston Red Sox. Lester has a career record of 61-25 and 3.55 ERA. Born in 1984 in Tacoma, Washington, he was drafted to the team in 2006 and was diagnosed with non-Hodgkin lymphoma sidelining him for part of his first season with the team. After a successful treatment, Lester returned stronger than ever, and has since had an extremely successful career with the team including highlights of: being selected as an MLB All-Star in 2010, winning the World Series in 2007, pitching a no-hitter in 2008, and being awarded with both the Tony Conigliaro Award (2007) and Hutch Award (2008). Lester heads into the 2011 MLB season as the Red Sox opening day starting pitcher.
# # #