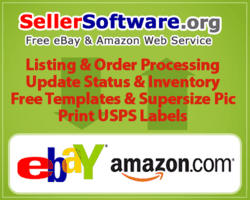 We are planning to run this solution as nonprofit and add more sites like eBay UK and eBay Australia, as well as half.com, buy.com...
Los Angeles, CA (PRWEB) May 16, 2011
SellerSoftware.org is introducing its free web management service to assist independent eBay and Amazon sellers in becoming more profitable. Most management software is too expensive for the independent seller to afford, with some major web service companies charging monthly minimum fees in addition to a percentage of sales, which can easily run from $100 to $1000 or more.
SellerSoftware offers many eBay and Amazon web tools, including the ability to list eBay items with its one-page lister, perform inventory control, manage auctions, process orders and change the shipping status. Unlike other free web tools that allow you to upload only a few items per month, SellerSoftware allows users the ability to upload up to 1,000 items per month, free of charge.
SellerSoftware.org offers many free benefits that desktop software cannot. First, since it is a web service, there is no download or installation necessary. New users can sign up and begin using the service in as little as five minutes. The service also offers free image hosting. Other eBay management software programs require a separate image hosting service since the software is installed locally on the user's computer. The image hosting service is an additional fee for the user and creates more work by having to link images to the listings. And finally, SellerSoftware offers many free tools like scheduling, super-sized images, US Postal Service label printing and automatic feedback, sales and tax reports.
When asked why his company is offering so many free features, Daniel Kim, the team leader of SellerSoftware.org, said, "I started as a small eBay and Amazon seller myself 12 years ago. I couldn't find good and free management software for both eBay and Amazon. My team has been developing solutions for 10 years and now we are trying to help other independent sellers to achieve their goals."
Both first-time sellers and eBay experts alike are invited to try out the service, especially if they are looking for both eBay and Amazon all-in-one software. Feedback is very much appreciated so that new features may be introduced.
"We are planning to run this solution as nonprofit and add more sites like eBay UK and eBay Australia, as well as half.com, buy.com and more, depending on user's feedback," Kim said.
Any domestic and international sellers in good standing are welcome to sign up. For more information about SellerSoftware.org's free eBay and Amazon web service, please visit http://www.SellerSoftware.org
About SellerSoftware.org
SellerSoftware.org is a branch of PhiConnect.com, a company specializing in full enterprise e-commerce solutions for eBay and Amazon sellers with high sales volume. PhiConnect.com also provides an eBay app called 'Online Return Service,' which was selected as the runner-up for the '2010 eBay DSR Rockstar Award.' They have helped many eBay and Amazon sellers reduce the time and labor required to run a successful e-commerce company.
Media Contact:
Daniel Kim
info(at)SellerSoftware(dot)org
213-923-8990
# # #