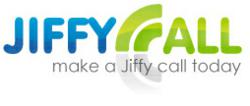 JiffyCall is a long distance service that has been optimized for the frequent international caller
(PRWEB) May 11, 2011
JiffyCall is a pinless dialing service, and it provides callers with a hassle-free calling system that does not require the caller to remember or provide any Pin number when dialing the service. A user simply needs to register with a phone number which can be a home, work or cell number. Pinless dialing makes calling easier as callers enjoy not only increased convenience, but many other benefits including cost savings, increased flexibility, and more productivity, since JiffyCall is based on a highly scalable and affordable VoIP calling platform.
JiffyCall offers low long distance rates, and international callers will find this feature of the service particularly attractive. With an average of less than 5 ¢/min for calls to some of the most popular destinations worldwide, JiffyCall provides exceptional savings for the frequent long distance caller. With JiffyCall, customers can call Brazil (2.5 ¢/min), El Salvador (6 ¢/min), France (1.8 ¢/min), Nigeria (7 ¢/min), and over 200 other countries around the world at conveniently low rates.
Another key benefit of the JiffyCall Service is the Easy Service Setup and Recharge that the system offers. With JiffyCall, making a cheap international call takes just 3 simple steps. To start making calls, users simply need to purchase an inexpensive personal prepaid calling account from the secure JiffyCall website using a credit/debit card. JiffyCall supports a variety of card-based and online payment options including VISA, Discover, MasterCard and PayPal. Callers can then register their regular phone numbers, and dial an access number to start calling. Recharging is also a snap, as users can simply refill their calling account using affordable international phone cards available for purchase on the secure JiffyCall site.
There are also a number of additional benefits to the JiffyCall service. JiffyCall offers a totally-free Sign Up (Zero Sign Up costs) unlike most other VoIP providers. There are also no extra or hidden charges, fees or taxes associated with the service. Callers only pay for their calls and nothing more. An additional benefit of the system is that users dial local access numbers to connect with international numbers; this eliminates the hassles of remembering or dialing long international numbers. The pinless nature of the service also adds a dimension of convenience and flexibility to the system.
JiffyCall offers Direct DID phone services all over the world with a large stock of phone numbers on its carrier-grade direct international DID platform. This program is suitable for individuals and businesses that make and receive lots of long distance and international calls from or to a certain city, state, country and are looking to build a point of presence in a country that they conduct business.
JiffyCall also offers Wholesale VoIP termination services at low rates. With a redundant switch capacity of 5000 channels on its wholesale platform, an interconnect with over 50 carriers, and over 4 million minutes terminated monthly, JiffyCall is a prime choice for businesses looking for a cost-effective and highly productive VoIP termination investment across quality direct global routes.
Additionally, JiffyCall runs a reseller program for all its services. JiffyCall assists resellers in offering the right products to their target network. Using JiffyCall's wide range of platforms, users can start their own business reselling any of JiffyCall's products and services with their own brand if they wish or reselling under the JiffyCall brand to avoid branding startup costs.
On the security side, JiffyCall is 100% safe, providing reliable security at all levels of use. With JiffyCall, users enjoy 128 bit RC4 security that has being verified by GoDaddy.com, so they can enjoy 100% safe transactions when recharging or purchasing a prepaid plan. Beyond security, JiffyCall provides a highly intuitive and easy to use interface and customer account system that allows users to track all transactions made, with features like Call History, which allows users to keep track of call costs and duration without paying extra fees. Account Statements are available, and they allow users to view the status of the calling account, including call credit balance and payment or recharge options. Additionally, for any query or changes, users can call JiffyCall's operator services any time and talk to a personal operator for fast and accurate account management.
A speed-dial service is also available with the Service, allowing callers to dial speed-dial codes in order to access frequently dialed international numbers. This feature is particularly useful for Call centers, which may have the need to repeatedly dial a group of international numbers.
Quoting a company spokesperson on the JiffyCall service;
"JiffyCall is a long distance service that has been optimized for the frequent international caller. With JiffyCall, callers enjoy great low rates to popular destinations worldwide for as little as 1 ¢/min, as well as a secure and convenient pinless dialing system that saves time and adds flexibility. JiffyCall has Zero connection, maintenance or monthly fees, and presents an excellent VoIP calling solution for Call Centers and businesses worldwide through its highly scalable and exceptionally user-friendly and cost-effective VoIP calling platform."
With JiffyCall, long distance callers, call centers and businesses in the U.S. and elsewhere will be able to save thousands of dollars annually, as well as build optimized and scalable facilities for VoIP-based long distance communication. The JiffyCall service is flexible and can be remotely managed online through caller accounts. Affordable prepaid calling plans and online payment features make this calling system ideal for businesses and long distance callers looking to cut call costs dramatically as well as enjoy hassle-free VoIP calling services.
For more information about the JiffyCall Service, including how to setup a prepaid calling account and start enjoying cheap international calls, visit www (dot) JiffyCall (dot) com
About JiffyCall
JiffyCall is a Worldwide VoIP Provider available in major cities across the globe. We offer various VoIP services from our numerous carrier-grade Switching Platforms to our worldwide international PIN-less dialing, wholesale VoIP termination, Direct DID/DID Allocation, Voice Broadcasts, Call-center solutions and many more. JiffyCall providers low-cost VoIP calling and saves you money on calling your friends, family and business associates wherever you are in the world. With over 50,000 satisfied subscribers we one of the fastest growing VoIP providers and the right choice for your communication needs. We are interconnected with most tier-1 global telecom companies and terminate millions of minutes monthly. Sign up to make a JIFFYCALL today.
###