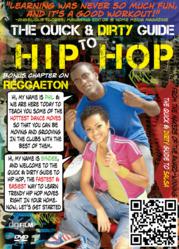 "After the success of "The Quick & Dirty Guide to Salsa, we wanted to make something even better. So we found a way to make a feature length CGI project with little or no resource."
- Debdoot Das, Filmmaker
New York, NY (PRWEB) May 11, 2011
Digifilm celebrates National Fitness and Sports Month by releasing director Debdoot Das' instructional epic "THE QUICK & DIRTY GUIDE TO HIP HOP" dance/exercise DVD.
Featuring popular and iconic Hip Hop dance moves taught by Syndee M. Winters and Phil Turay this funky hip hop dance and workout DVD promises an extraordinary and unprecedented learning experience.
The trailer is available on Youtube.com, Vimeo.com and Digifilm.com.
The DVD is being distributed by Navarre Corporation.
THE QUICK & DIRTY GUIDE TO HIP HOP takes us to a spectacular virtual New York City of our imagination, where professional dance instructors Phil Turay and Syndee M. Winters embark on a step-by-step journey of dance training and instruction, as they lead the novice to ultimate Hip Hop dance mastery.
The idea was first conceived by Das four years ago, when the means to realize his vision did not yet exist. Now, after four years of actual production work, THE QUICK & DIRTY GUIDE TO HIP HOP delivers a fully immersive cinematic experience of a new kind, where the cutting-edge technology used to create the production, acts as a catalyst to Hip Hop dance to produce a magical learning experience.
Scientists recently identified certain dance moves that make you look more attractive to potential mates. Instinctively, that is what Syndee and Phil teach in this DVD. This DVD contends that the body communicates more clearly than the brain. To put it simply, dancing is better than talking.
"After the success of "The Quick & Dirty Guide to Salsa, we wanted to make something even better. So we found a way to make a feature length CGI project with little or no resource" said director Debdoot Das. "The gigantic virtual set of New York City was distributed on many old and borrowed computers and somehow the job got done."
"Learning was never so much fun," wrote Angelique Flores of Home Media Magazine describing the THE QUICK & DIRTY GUIDE TO HIP HOP. "And it's a good workout."
Underscoring Digifilm's commitment to helping inform and educate THE QUICK & DIRTY GUIDE TO HIP HOP is designed to promote a healthier lifestyle.
About Debdoot Das
"I had a heavy dose of cinema growing up," says India-born Debdoot Das. "I wrote my first script when I was 11. Living in central Calcutta, which has a really old film industry. To humor me the movie people gave me strips of negatives to play with.
So it wasn't mere fancy for the movie-loving son of a photographer to imagine himself directing his own feature. It is slightly more improbable that what has brought Das within reach of his dream is the unexpected success of his dance instruction video, "The Quick and Dirty Guide to Salsa."
"The Quick and Dirty Guide to Salsa" has been a best-selling dance video on Amazon.com, leading to distribution deals with Navarre and NetFlix.
Learn more at http://www.apple.com/pro/profiles/das/index.html.
About Digifilm
Digifilm(R) Inc. is an independent publisher and distributor of instructional and entertainment software for the home and mobile devices. Established in 2003 in New York City, DigiFilm both produces and acquires high-quality home video/DVD products, publishes them under proprietary and third-party brands, and distributes them via its own web and mobile interface and through partnerships with larger distribution organizations worldwide.
About Navarre
Navarre(R) Corporation is a publisher and distributor of computer software, home entertainment media and related products. Navarre Distribution Services provides complete distribution and third-party logistics (3PL) services to North American retailers and their suppliers. Navarre was founded in 1983 and is headquartered in Minneapolis, Minnesota. Learn more at http://www.navarre.com.
About Syndee M. Winters
Born in Queens, New York, Syndee could sing before she could speak. Excelling quickly as a dancer, she developed the skill of choreographing for dancers and non-dancers alike. She danced back-up for the Daddy Yankee Tour, Reggaeton artist Lisa M and traveled the world as a working dancer. She spent a season as a NY Knicks City Dancer at Madison Square Garden, and has danced and sang with the likes of American Idol Winner Jordin Sparks and Pop Star Demi Lovato. She worked with the legendary DJ Grandmaster Flash on his heavily anticipated album, co-writing two songs and collaborating with the likes of Snoop Dogg, Red Café, and Big Daddy Kane. She is currently making her Broadway Tour debut in the role of Nala in Disney's The Lion King U.S. National Tour.
Learn more at http://www.syndeewinters.com.
About Phil Turay
Phil Turay was born and raised in Brooklyn, New York; Phil has been dancing since the tender age of three. He began taking tap lessons at the local PAL and fell in love with dance as an artform. In high school, Phil dabbled in musical theatre, playing Tyrone in the stage production of FAME. In college, Phil joined an international dance group specializing in multicultural styles. After college, Phil joined the ReMIXX Performers in New York City and began performing for various music industry artists and events. Phil currently resides in Los Angeles where he is pursuing a professional career in dance as well as a Graduate degree in Psychology from Pepperdine University.
Members of the media may contact Digifilm for a full preview.
###