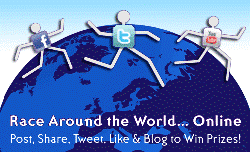 We are overwhelmed at the number of participants and the enthusiasm shown by so many. The contest will continue until the grand prize drawing on May 25th and we wish all the contestants the best of luck - John Slocum, AmeriSpan Co-founder
Philadelphia, PA (PRWEB) May 11, 2011
AmeriSpan Study Abroad held the early prize drawing for the Great Travel Abroad Contest on April 28, 2011. This innovative contest encourages contestants to earn points by posting, sharing, liking and blogging their travel stories, advice and tips. The points accumulated help participants virtually "travel around the world" beginning in Philadelphia and ending in Montreal. The first one around the world wins a Kindle. In addition, there is a Grand Prize random drawing where the number of points earned is equal to the number of chances you have to win. The grand prize is a $1,000.00 educational grant that the winner can use towards AmeriSpan study abroad programs and that drawing will be held on May 25, 2011. Other potential prizes include electronics, study abroad programs, travel gear and more.
AmeriSpan strives to use its presence in the educational travel market to encourage individuals from all over to connect with each other by sharing their common interest in traveling and studying abroad. The company is using a variety of initiatives to engage past participants to urge others to consider studying abroad. These "Study Abroad: Push It Forward" initiatives include the aforementioned contest, a groundbreaking fundraising program, special "Delegate" study abroad scholarships and offering grants to participants who provide first hand written/video accounts of their travel experiences.
There were 9 total prizes in the drawing, and the big winner was Caitlin Beal who won a brand new Kindle. When contacted by AmeriSpan Ms. Beal said, "I am very excited to win a Kindle. Also, I'm rather partial to the graphite colored one." The other 8 winners in the first drawing included contestant usernames: Prem, kateska22, alocke117, rachelne, grnhcat, sashayn, jwing105 and emerritt. Prizes awarded included airfare discounts, travel gear and language-learning aids.
"AmeriSpan would like to congratulate all of the winners and express our thanks for participating in our contest. We are overwhelmed at the number of participants and the enthusiasm shown by so many. The contest will continue until the grand prize drawing on May 25th and we wish all the contestants the best of luck", commented John Slocum, AmeriSpan co-founder.
Founded in 1993, AmeriSpan Study Abroad offers more than 100 study abroad, language-learning and volunteer programs worldwide for participants of all ages and language level. The Philadelphia-based organization has long been an innovator in the study abroad field, building its reputation by offering high quality, low cost language immersion programs. In May 2011, the company was named a Finalist for the "Innovators in Social Media" award sponsored by GoAbroad.com. In September 2010, the company was awarded its 2nd consecutive 'Star Award' as the Best Agency in North America. The industry's prestigious Star Award is voted by organizations worldwide and awarded annually.
###