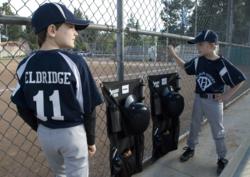 The Dugout Hero picks up where the bat bag leaves off.
Burbank, CA (PRWEB) May 12, 2011
The Dugout Hero is the only personal youth dugout organizer of its kind for baseball, softball and T-ball. Designed as a supplement to the bat bag, this durable patent-pending product makes the dugout a safer place. It eliminates clutter and reduces the spread of germs and bacteria from the inadvertent sharing of water bottles, hats and helmets. What's more, it actually speeds up the game by getting kids on and off the field faster, and allows coaches to focus on the game at hand.
Isbell says of her product, "The Dugout Hero was truly a case of necessity being the mother of invention. Bat bags are great for transporting gear, but they never really solved our problem of dugout clutter during the games and practices. The Dugout Hero picks up where the bat bag leaves off."
Isbell, a stay-at-home Mom of two and former entertainment coordinator in Los Angeles, was first inspired to create this product 3 years ago when her son was in Kindergarten. "The boys were always losing their things and my husband, who was also the coach, was spending more time in the dugout than on the field coaching. I scoured the Internet and sporting good stores for a product to solve our problem. When I couldn't find anything on the market, I got out my sewing machine and created a prototype. The boys are 3rd graders this year, and they need and use the Dugout Hero just as much now as they did then." Her husband, John Isbell is grateful to finally have the Dugout Hero in use, "It has changed the way we get on and off the field. The kids are more efficient players and it makes my job easier as a coach."
The Dugout Hero sells for $29.99 plus tax, shipping/handling and can be purchased through the company website (http://www.dugouthero.com). A team discount is offered for orders of 10 or more. Please visit the Dugout Hero website to place orders, view pictures or get more information. You can also find the Dugout Hero on Facebook.
###