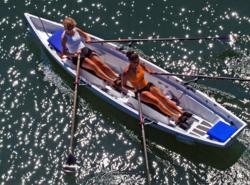 "As we moved through the economic restrictions of the past few years we heard three common laments …"I can't afford a boat right now." "I have no place to keep a boat" and "I'm just too busy." "We answered these concerns, and created opportunity."
Victoria, BC (PRWEB) May 11, 2011
It's too beautiful and sunny a day to be at work. Why not steal away out on the water for a restorative hour or more in the afternoon. This is not a dream, because members of a Whitehall Spirit® Rowing Club franchise can go online and in less than a minute book and reserve their favorite rowboat. A short time later, down at the Rowing Club docks, utilizing a personal access code, in less than 5 minutes slip a beautiful sleek slide seat rowing boat equipped with lightweight carbon fiber sculling oars into the water. Step aboard and shove off. Soon "hear the quiet" gliding along, re-balancing, reconnecting and getting the smoothest workout available, all at the same time.
The Whitehall Spirit® Rowing Club (WSRC) is the brainchild of Marie Hutchinson and Harold Aune who co-founded their rowboat manufacturing company, Whitehall Rowing & Sail, back in1985. Since then they've sold thousands of beautiful Whitehall Spirit® rowboats to owners all over the world.
No strangers to innovation, the idea of a rowing club franchise was a natural response to tighter economic times. "As we moved through the economic restrictions of the past few years we heard three common laments from enthusiastic would-be rowers. These were "I can't afford a boat right now." "I have no place to keep a boat" and "I'm just too busy and have no time." "Well, we have answered these concerns, and in the process have created opportunity for many," says Marie. "When times get tough, we say the tough get rowing!"
After founding the first WSRC in Victoria BC over a year ago, Harold and Marie fine-tuned the online booking system, member's training program and club facilities until they were working seamlessly. They then moved to the next phase, which was to form the concept into a franchise opportunity, the first of its kind in the world.
"We were inspired to expand into a franchise when our customers and newsletter readers called and asked, "When can you form a rowing club in our area?" says Marie. For now WSRC franchises are being planned for BC, Washington State and California.
Franchisees enjoy owning a turnkey operation that includes boats, docks, marketing material, website, and the key ingredient, a software package that includes individual online booking for club members. This custom built software hugely reduces costs and time required for management.
The Clubs are being marketed and sold by Whitehall Spirit Franchising Inc. Whitehall Rowing & Sail supplies the boats, docks and accessories, including delivery and installation. Most rowing clubs require a boathouse facility however the WSRC needs only a location for a boat dock with suitable access to open water.
Marie says, "Low overheads and minimal time spent managing operations are what make this franchise quite unique. Most franchises require long hours of work by their owners. This is not so with a WSRC which, because of it's custom built online booking system, requires as little as an hour or two of management a day. This makes it an ideal business for an entrepreneur who's retired or looking for a small business that inspires them while supplementing their income. They also get to go rowing and stay fit and healthy while helping others do the same." Though fun and suitable for all age groups, club marketing material mainly targets those over 40 who stand to benefit the most from staying fit. Most importantly WSRC membership fees are affordable enough for any income level.
WSRC boats are the new high tech Whitehall Spirit® thermoformed co-polymer open water slide seat boats that are bio-mechanically identical to a racing shell. These boats are safe, stable virtually unsinkable and can handle waves and wind, unlike the tippy rowing shells used for competition rowing. This also means rowing can take place most of the time, whether morning, midday or evening. The WSRC offers both the Solo 14 single and the Tango 17 double position boats equipped with lightweight carbon fiber sculling oars and all the required safety gear. Professional open water rowing instructors insure all new members receive introductory training in boat handling skills and slide seat rowing.
Marie goes on to say, "What makes slide seat rowing so special is that you use the largest muscles in your body for power, your legs, which is the most efficient form of human propulsion going on the water. Your carbon fiber sculling oars are levers that powerfully cup the water so you can pull your boat ahead. Using your body this way pumps volumes of blood and fluids through your system while clearing out toxins and "crud". You breathe in lots of fresh air and turn your body regularly to look ahead, which gives a gentle yogic twist to your spine, increasing flexibility. It's peaceful, almost meditative, yet you're burning 800 calories an hour."
Whitehall Spirit Franchising Inc. is marketing this franchise package to individual entrepreneurs, marinas, yacht clubs and waterfront resorts. It is available in various sizes to suit specific locations and membership levels.
This innovative new franchise business is an affordable way for anyone to learn and enjoy a healthy fun sport with high tech top quality equipment, and is indeed an opportunity for many.
###